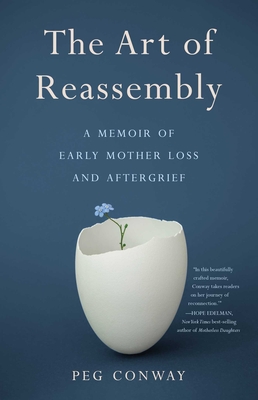 The Art of Reassembly
A Memoir of Early Mother Loss and Aftergrief
Paperback

* Individual store prices may vary.
Description
If your mom is dead, is she still your mom? At twenty-five--nearly two decades after losing her mother to breast cancer as a little girl--an accident on a downtown street unleashes startling emotional reactions in Peg Conway, and this question starts to percolate. She comes to understand what she's experiencing as long-buried childhood grief, and as she marries and becomes a mother herself, Peg's intense feelings challenge her to offer herself compassion. Gradually she confronts how growing up surrounded by silence in a family that moved on from sorrow had caused her to suppress her mother's memory for far too long. Ultimately, after excavating all the layers, Peg finds her mom again, and in the process discovers that truth, no matter how painful, heals.
She Writes Press, 9781647422158, 234pp.
Publication Date: November 9, 2021