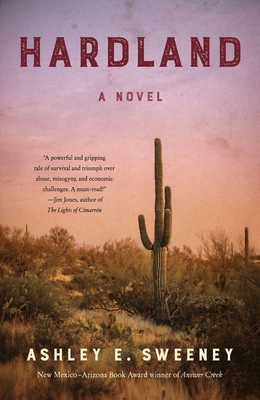 Hardland
Paperback

* Individual store prices may vary.
Description
Arizona Territory, 1899. Ruby Fortune faces an untenable choice: murder her abusive husband or continue to live with bruises that never heal. One bullet is all it takes. Once known as "Girl Wonder" on the Wild West circuit, Ruby is now a single mother of four boys in her hometown of Jericho, an end-of-the-world mining town north of Tucson. Here, Ruby opens a roadside inn to make ends meet. Drifters, grifters, con men, and prostitutes plow through the hotel's doors, and their escapades pepper the local newspaper like buckshot. An affair with an African American miner puts Ruby's life and livelihood at risk, but she can't let him go. Not until a trio of disparate characters--her dead husband's sister, a vindictive shopkeeper, and the local mine owner she once swindled--threaten to ruin her does Ruby face the consequences of her choices; but as usual, she does what she needs to in order to provide for herself and her sons.
Set against the breathtaking beauty of Arizona's Sonoran Desert and bursting with Wild West imagery, history, suspense, and adventure,
Hardland
serves up a tough, fast-talking, shoot-from-the-hip heroine who goes to every length to survive and carve out a life for herself and her sons in one of the harshest places in the American West.
She Writes Press, 9781647422332, 376pp.
Publication Date: September 13, 2022