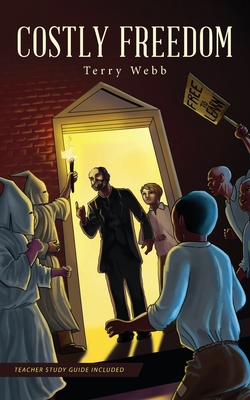 Costly Freedom
Paperback

* Individual store prices may vary.
Description
"I'se me...I'se a person... caint nobody own me... "
12-year-old Albert, a recently emancipated slave, tells his friend, Sam, in Terry Webb's novel, Costly Freedom. In this book, Albert, Sam Benedict and Sam's school friend, Will Cobb, are caught in the chaos, desperation and bitterness of white southern Georgia after the Civil War has ended. The three boys face challenging experiences reestablishing their friendship, starting school again and dealing with the violence of the Ku Klux Klan. This book-written specifically about life during the period of Reconstruction in the South- fills a needed void in historical fiction for youth. It reminds them-lest they forget-the struggles black Americans have endured during the two-hundred years since Abraham Lincoln's presidency. It reminds southerners just how far they have come in accepting them. So today, every Albert, Sam, and Will can proudly say, "I can be who I want to be when I grow up."
The author captures in Costly Freedom, some of the oral history stories handed down from her Benedict relatives about their lives in Georgia during and after the Civil War. The setting for her historical fiction book series for youth, Manning the Light, Weathering the Storms, Mystery and Mishap, Leaving the Lighthouse occurs at the beginning of the period of the Industrial Revolution. Her other historical fiction book captures the formative years in Vermont of Thaddeus Stevens, who helped run away slaves and supported emancipation.
Dr. Webb holds a Masters in Education and a doctorate in Family and Marriage Counseling. Her background as an advocate for Civil Rights informs her writing.
Award-winning book that recently earned acclaim from the prestigious Next Generation Indie Book Awards
https: //www.indiebookawards.com/winners/list
Urlink Print & Media, LLC, 9781647532529, 140pp.
Publication Date: May 19, 2020