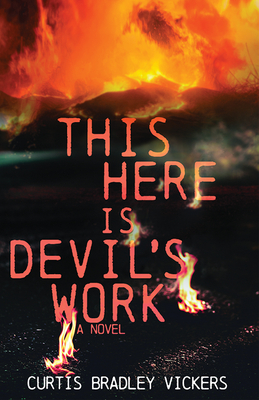 This Here Is Devil's Work
A Novel
Hardcover

* Individual store prices may vary.
Description
In this unflinching, dramatic adventure, modern-day wildland firefighters and cattle rustlers struggle for survival in a changing western landscape. Braiding the stories of two firefighters (Morgan and Jeremy) and an abrasive laundromat custodian turned cattle-rustling grandmother (Jacklynn), This Here Is Devil's Work is a fiery ride through the small towns of Nevada and Montana and the rugged expanse that connects them.

A twelve-year veteran of the fireline, Morgan believes he knows what his teenage half-brother (Jeremy) needs to do to shrug off boyhood: spend a single season fighting forest fires to earn money for auto mechanic school. But when Jeremy joins the Ruby Mountain Hotshots and earns the respect and admiration of their fire boss (Bailey), Morgan must battle his own demons before they destroy him.

Meanwhile, life hasn't been easy on Jacklynn—she longs to escape the small town in Montana where she has lived her whole life and reunite with
her daughter and grandson in Tucson. Jacklynn wants to make up for a lifetime of missteps by protecting the boy and making sure her daughter stays on course. On the same day that an attractive stranger waltzes into her life, an opportunity for life-changing money presents itself in the form of a dozen pregnant heifers. The only trouble is, they aren't hers—not yet, anyway.

Morgan and Jacklynn's paths cross when lightning ignites a blaze in the untamed Montana wilderness, and their choices force each other into
the fury.

Set against the backdrop of wildfires raging across the West and the firefighters who continue to put their lives on the line, This Here Is Devil's Work explores how love and loneliness can sour, and how they can eventually lead to desperate and self-destructive acts even for those people we consider heroic. 
Praise For This Here Is Devil's Work: A Novel…
"In the powerful New Western novel This Here Is Devil's Work, emotions propel perceived heroes toward destructive
acts."
—Foreword Reviews

"In Curtis Vickers's This Here is Devil's Work the dreams of its characters burn as bright—and as devastatingly— as the fires of American West. . . . With sharp commentary on working-class dignity and suspense that builds like a fire, This Here Is Devil's Work is a vital exploration of the true meaning of family, perseverance, and the bravery of a woman who knew the odds yet 'opened her mouth to try anyway'."
—Allison Davis, author of Line Study of a Motel Clerk 

"This Here is Devil's Work is a vivid and evocative reminder that, here in the vastness of the American West, our personal stories and the stories of the land remain intertwined and inseparable." 
—Michael P. Branch, author of Rants from the Hill and How to Cuss in Western 

"In Curtis Vickers' This Here is Devil's Work, the archetypes of the American West get a much-needed update. The twining storylines of a grandmother-turned-cattle rustler and a bitter wildland firefighter capture with frightening clarity and empathy what desperation will drive people to. This is the West that I know; full of dangerous lands and dangerous loves, where characters are either forged or consumed in the flames of a raging wildfire."
—Gabriel Urza, author of The White Death: An Illusion and All That Followed
 
"Tautly crafted and breathtakingly suspenseful, this debut novel will leave you forever changed."
—Christopher Coake, author of You Would Have Told Me Not To
 
"This Here Is Devil's Work echoes the images of wildfires seen on the nightly news. This timely novel explores the subject matter and themes of stewardship and control, and many readers will be impacted by the difficult contradictions exposed within these pages."
—Markus EgelerJones, author of How the Butcher Bird Finds Her Voice

"Curtis Vickers forges unflinchingly into the fiery hearts of his characters and shelters us from the showering sparks produced by their conflagrations. Montana and its people have rarely burned as brightly as they do in this vivid, finely crafted, page-turner of a novel."
​—Siân Griffiths, author of Scrapple, Borrowed Horses, and The Heart Keeps Faulty Time

 
University of Nevada Press, 9781647790042, 308pp.
Publication Date: February 23, 2021
About the Author
Curtis Bradley Vickers's short fiction and essays have been published by Sou'wester, Ohioana Quarterly, Shroud, Muscle & Blood, and GWS Press. From the first wildfire he experienced as a child fishing on the Mogollon Rim to the first time the Bonneville Salt Flats cracked beneath his feet, he has always wanted to pin to the page the West that filled his imagination. This Here is Devil's Work is Vickers's first novel. He lives in Reno, NV. For more information, visit curtisbradleyvickers.com.
or
Not Currently Available for Direct Purchase