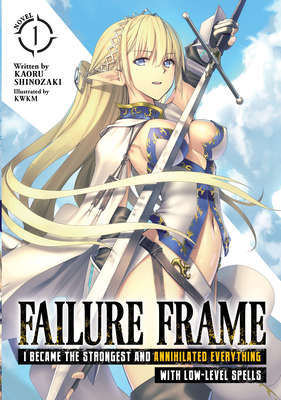 Failure Frame
I Became the Strongest and Annihilated Everything With Low-Level Spells (Light Novel) Vol. 1
Paperback

* Individual store prices may vary.
Other Editions of This Title:
Paperback (6/8/2021)
Paperback (4/13/2021)
Paperback (9/14/2021)
Paperback (7/13/2021)
Description
Revenge in another world--with an abnormal twist! (And don't miss the manga version, also from Seven Seas.)

Abruptly catapulted into a fantasy world, Mimori Touka and his classmates have been summoned by the world's resident Goddess to serve as heroes. Luckily, most of the students display amazing skills upon arrival—except for Mimori, whose abilities bottom out at a measly E-rank. With no further use for him, the Goddess banishes Mimori to a dungeon from which no one has ever returned alive. Yet, as it turns out, Mimori's skills aren't so much worthless as they are abnormal. Abnormally powerful, even. If Mimori can only claw his way back to the surface, nothing will stand in his way from getting revenge.
Seven Seas, 9781648270697, 300pp.
Publication Date: March 9, 2021
About the Author
Kaoru Shinozaki is a Japanese writer best known for Seiju no Kuni no Kinju Tsukai and Failure Frame.

KMKW is a Japanese artist best known for the illustrations in the light novel series Hazure Skill "Kage ga Usui" o Motsu Guild Shokuin ga, Jitsu wa Densetsu no Ansatsusha, and Failure Frame.