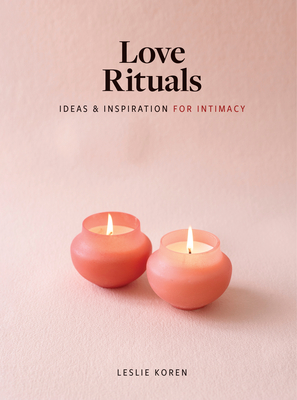 Love Rituals
Ideas and Inspiration for Intimacy
Hardcover

* Individual store prices may vary.
Description
Love Rituals offers readers a collection of meaningful ways to enhance their relationships. The book is divided into three chapters: Daily Gestures, Date Nights, and Intimate Encounters. In Daily Gestures, author Leslie Koren encourages readers to prioritize and appreciate their partners—not just on Valentine's Day or their anniversaries, but each and every day. Maybe you'll deliver a cup of coffee to your wife in bed each morning, or have cocktail hour with your boyfriend every night after work to catch up with each other and talk about your days. In Date Nights, she suggests "Yes Day" (where one partner plans the whole agenda, from the breakfast menu to a late-night movie), and going on a trip down memory lane by taking turns telling each other the story of your courtship. In Intimate Encounters, readers will be encouraged to connect both physically and emotionally, with rituals like eye gazing and giving one another massages. There are also rituals for vacation, anniversaries, and even periods when you're long-distance. Just flip open the book and voilà—romance is in the air!
Artisan, 9781648290305, 120pp.
Publication Date: December 21, 2021
About the Author
Leslie Koren is the author of Love Rituals, Morning Rituals, and Restorative Rituals. A longtime newspaper crime reporter, Koren took her career in a new direction when she started writing about more joyful things: cooking, design, family, and happiness. The former editor of Crain's 5boros, she has written for various national and local publications. She lives in Brooklyn, New York, with her husband and two daughters.