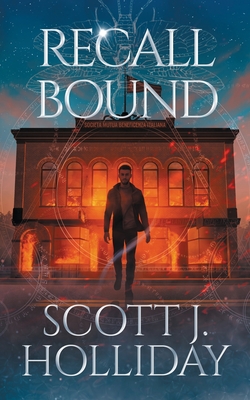 Recall Bound
Paperback

* Individual store prices may vary.
Description
Mysterious forces converge.
An epic battle, centuries in the making.
And Jacob Duke, son of djinn, is the eye of the coming storm.
"...an edge-of-your-seat urban fantasy thriller where deals rarely end well for any of the parties involved." --Chris Bauer, author of Binge Killer and Hiding Among the Dead
As supernatural elements continue to gather around Jacob, beings with hidden agendas are desperate to influence him. There are forces of evil at hand, and they will stop at nothing to bring about their vision of power.
The portended coming of Eschaton nears, and Jacob's choices will determine his role in the final confrontation.
Now another mystery draws Jacob in, promising to further shape him as he is compelled to grant the wish of an old man with a forgotten past.
With nothing more to guide him than a photo of three young girls, Jacob is drawn to Michigan's copper country...
...and a historic tragedy that reverberates through time.
Will Jacob grant the man's wish in time to save him?
And what will be the consequences if he does?
_____________________________
The Stonefly is a captivating mix of urban fantasy and traditional mystery. It explores the true commitment of friendship, and the moral conflict found within all of our souls.
_____________________________
What readers are saying about Scott J. Holliday and RECALL BOUND:
★★★★★ "WOW Captivating Storyline "
★★★★★ "You'll enjoy every moment of this fast-paced thriller..."
★★★★★ "...Holliday is a master at weaving magic, paranormal, mystery, and action into a unique series."
Severn River Publishing, 9781648750014, 356pp.
Publication Date: June 2, 2020