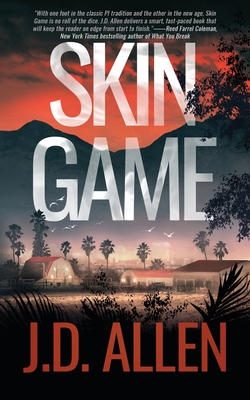 Skin Game (Sin City Investigation #1)
Paperback

* Individual store prices may vary.
Other Editions of This Title:
Hardcover (1/19/2021)
Paperback (2/8/2019)
Description
PI Jim Bean should walk out that door and let the Vegas bouncer do his worst. That's what an ordinary man would do. But nobody ever accused Jim Bean of being ordinary.
Private investigator Jim Bean has worked hard to create his new identity in Vegas. He doesn't have a great life, but it's his. When his ex-fianc e Erica Floyd walks into one of his investigations looking for her missing sister, the tragic past he wanted to leave behind comes flooding back.
Despite serious reservations, Jim agrees to search for Erica's sister. Clues lead him to a human trafficking ring and one of Vegas's most influential mobsters. Unless Jim can face the ghosts of his past, the anger of his present, and a new enemy out for his blood, four women will suffer a fate worse than death.
_________________________________
Praise for J.D. Allen and Skin Game:
"That wonderful and rare combination of high-speed suspense and complex, richly drawn characters will keep you on the edge of your seat." -- Jeffery Deaver, New York Times bestselling author
"Skin Game is a very solid adventure through the Las Vegas underworld." ―Crimespree Magazine
"With one foot in the classic PI tradition and the other in the new age, Skin Game is no roll of the dice. J.D. Allen delivers a smart, fast-paced book that will keep the reader on edge from start to finish." ―Reed Farrel Coleman, New York Times bestselling author of What You Break
"Skin Game never tries to be more than it is, and that works in its favor. Instead, fully engaging with the expected tropes, Allen turns the novel into something akin to comfort food for those who enjoy this type of story. That is important and will surely make fans of classic PI novels place Allen on their radar and keep an eye out for whatever she does next." ―Criminal Element
Severn River Publishing, 9781648750380, 300pp.
Publication Date: January 19, 2021