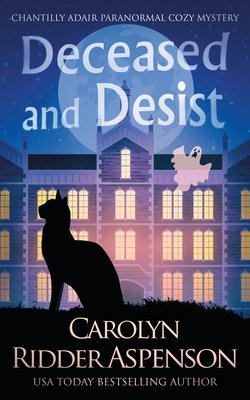 Deceased and Desist
A Chantilly Adair Paranormal Cozy Mystery
Paperback

* Individual store prices may vary.
Description
To most people, I'm a middle-aged divorced mother managing the Castleberry Historical Society.
What they don't know is that my side job is helping ghosts solve the mysteries of their demise.
Trust me, it's not easy, especially when the ghosts don't like to cooperate or are just plain jerks.
When the town's biggest high school bully of all time decides to come back and haunt Castleberry High, it's my job to stop him. The problem is, this job is bringing up a whole lot of personal baggage and bad memories... because that bully bullied me.
The good news is, the town detective knows my secret and wants to protect me.The bad news is, the town detective knows my secret and wants to protect me.
My goal is to send this ghost back to where he came from. But he's pushing hard for me to solve his murder. Only, I don't believe his death was intentional, and I'm struggling to help a spirit that tortured me for two years straight.
Worse yet, school's not even over, so now I'm pulling double duty as a school volunteer and hunting a killer. One who just might have me at the top of their kill list.
_____________________
What readers are saying:
★★★★★ "Outstanding Get this book "
★★★★★ "This is the most gripping of the series thus far."
★★★★★ "Absolutely perfect fun. I can't recommend this book enough."
★★★★★ "Love the strong humorous women who inhabit Chantilly's world."
★★★★★ "This story was so well written...full of shocking surprises and that ending...well, I guess you will have to read it for yourself "
Severn River Publishing, 9781648751219, 186pp.
Publication Date: May 18, 2021