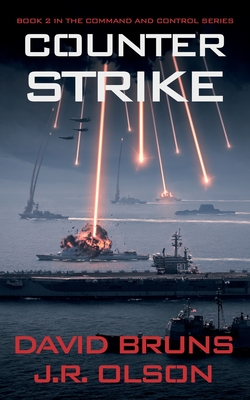 Counter Strike (Command and Control #2)
Paperback

* Individual store prices may vary.
Description
When China launches a blitz attack on the island of Taiwan, the world order hangs in the balance and the CIA must mobilize all forces to prevent the start of World War III.
The operation by the People's Liberation Army is airtight, with a high-tech battle network that guarantees total occupation within ten days. The United States rallies every available asset on land, sea, and air to launch a desperate counter strike against the occupying forces.
But in order to win, the US is forced to throw out the old playbook. What is required here is speed, audacity, and the application of the most advanced technology in the US arsenal.
As the head of the CIA's Emerging Threats Group, Don Riley has seen his share of crises, but nothing has prepared him for the choices ahead. With millions of civilian lives at risk, the US must neutralize the Chinese threat without triggering World War Three.
Counter Strike is the second book in a brand new series co-written by former submarine officer David Bruns and retired naval intelligence officer J.R. Olson. Packed with pulse-pounding action, realistic combat scenes, and page-turning twists, this military techno-thriller is a must-read for fans of Tom Clancy and Mark Greaney.
___________________________
Praise for the authors and the COMMAND AND CONTROL series:
"A fascinating World War Three scenario, and an action-packed story. This is going to be an amazing series " -Andrew Watts, USA Today bestselling author of The War Planners
"With their background in the U.S. Navy, both Bruns and Olson have the right stuff to create a realistic military tale." ―Booklist
"These two guys have lived it. Now they're writing it. Taut, tense, and totally believable, you will be dropped into the midst of a world with which few of us are familiar. A fine thriller indeed." -Don Keith, author of Only the Brave and Final Bearing
"Command and Control is a masterpiece of a military thriller from the first page to the explosive ending...some of the best combat writing I've seen since Tom Clancy." -Jason Kasper, USA Today bestselling author of The Enemies of My Country
Severn River Publishing, 9781648751790, 494pp.
Publication Date: February 8, 2022