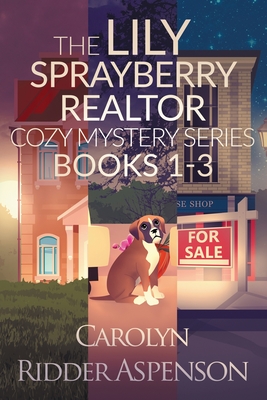 The Lily Sprayberry Realtor Cozy Mystery Series Books 1-3
Paperback

* Individual store prices may vary.
Other Editions of This Title:
Paperback (5/27/2020)
Description
THE FIRST THREE BOOKS OF THE LILY SPRAYBERRY REALTOR COZY MYSTERY SERIES
★★★★★ "I'm hooked "
★★★★★ "The story-line was phenomenal."
★★★★★ "I love the characters of this new series They're smart and funny and lively
Meet Lily Sprayberry.
Selling homes is her career.
Solving crimes, her calling.
____________________________
Book 1: Deal Gone Dead
There's money buried somewhere on Myrtle Redbecker's property, and people are dying to find it.
Literally.
When Bramblett County, Georgia's number one realtor, Lily Sprayberry, finds her cantankerous older client dead on the kitchen floor, she lands herself smack dab in the middle of a long-running property battle and a one-hundred-year-old rumor.
Lily made a promise to sell Myrtle's land, even if Myrtle wasn't alive to sign the papers. But whoever wants that money is determined to keep the property from selling and will do whatever it takes to stop Lily from closing the deal.
Including murder.
Now that Lily's got the killer's eyes on her, can she keep her promise to her deceased client...or will she wind up another victim in this deal gone dead?
____________________________
Book 2: Decluttered and Dead
One friend--two friends--both friends dead.
Every time the body count in Bramblett County Georgia rises, so does small town, Southern realtor Lily Sprayberry's popularity.
And these days, she's very popular.
When a member of her decluttering and staging class winds up dead, Lily takes it personally and sets out to find the killer.
But the truth isn't always pretty, and when she discovers a friend from her past may be the murderer, she vows to find out.
Now as the body count rises, can Lily figure out who the killer is before she and the rest of her life-long friends are added to the list?
____________________________
Book 3: Signed, Sealed and Dead
Small town folk don't always take care of their own.
As Bramblett County, Georgia realtor Lily Sprayberry preps for the annual community yard sale fundraiser, she discovers the body of the newly hired lacrosse coach lying in the high school gym.
At first, all signs point to natural causes, but when Lily finds an empty syringe lying under the bleachers, the coroner decides the coach was murdered.
Lily learns the coach wasn't liked by the lacrosse parents, and when word gets out about his murder, the state athletic association suspends the program entirely.
When a few of the lacrosse moms decide to take matters into their own hands, they threaten someone close to Lily--her county sheriff boyfriend and his reelection status-by bullying Lily.
And soon, Lily's had enough. As she searches for answers, she's dragged deeper into an angry mob of high school sports parents all seeking revenge and gunning for their kids to sign with the most elite schools offering the best scholarships.
And some of them are willing to do whatever it takes, including murder.
When the killer figures out Lily is close to cracking the case, things take a dangerous turn, and Lily's life is on the line. Can she save herself, or will she be the next victim in Bramblett County?
____________________________
If you like charming Southern cozy mysteries, you'll love the Lily Sprayberry series.
Severn River Publishing, 9781648759116, 464pp.
Publication Date: February 7, 2020