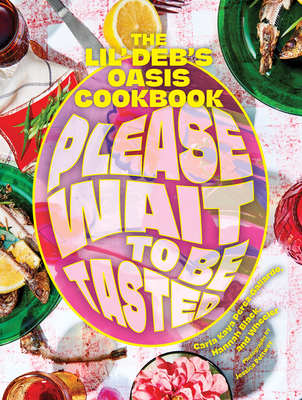 Please Wait to Be Tasted
The Lil' Deb's Oasis Cookbook
Hardcover

* Individual store prices may vary.
Description
Foreword by Grammy-winning singer-songwriter Meshell Ndegeocello.

Home cooks will love serving up bold-flavored tropical comfort food from Please Wait to Be Tasted, the first cookbook from Lil' Deb's Oasis, the James Beard Award-nominated hotspot in Hudson, New York. More than a recipe collection, it's a big-hearted celebration of food, love, and community.

For flavor-craving, art-loving, community-celebrating home cooks, Please Wait to Be Tasted serves up tropical comfort recipes, alongside musings on wine, music, love, sex, friendship, and fashion. At Lil' Deb's Oasis in the Hudson Valley of New York, chefs Carla Kaya Perez-Gallardo and Hannah Black, both art school graduates, have created a bright, welcoming, rainbow-colored, LGBTQ+ inclusive community, where guests are treated to "hot, sticky, juicy, moist fever dreams of flavor." Their recipes mesh respect for cultural traditions with a twist: Ceviche Mixto with Popcorn; Charred Octopus in the Ink of Its Cousin, Sweet Plantains with Green Cream, Abuela's Flan, and more. With "Please Wait to be Tasted" (a phrase featured in the restaurant's waiting area), you can bring these recipes home.

In addition to some seventy recipes, Please Wait to Be Tasted shares the knowledge and love that go into making memorable meals at Lil' Deb's Oasis: essays on the restaurant's beginnings and the chefs' navigation of the colonial histories entangled in their recipes' origins; tips on techniques, tools, and pantry; and lessons on how to eat well together.
Praise For Please Wait to Be Tasted: The Lil' Deb's Oasis Cookbook…
"Please Wait to be Tasted is sure to be a funny, heartfelt, inclusive, instructive read bursting with vibrant, mouth-watering images. And although a cookbook cannot bring the whole restaurant to your doorstep, Please Wait to Be Tasted will no doubt deliver Lil' Deb's signature "hot, sticky, juicy, moist fever dreams of flavor."
- Chronogram Magazine

"[T]his joyful collection has personality to spare. The tone is playfully provocative, with loosely organized chapters tagged 'Arousal' and 'Climax'....That said, the authors take their dishes seriously....The result is a cheeky work that's got as much 'chutzpah' as it does culinary expertise."
- Publishers Weekly (STARRED REVIEW)
Princeton Architectural Press, 9781648960253, 256pp.
Publication Date: June 21, 2022
About the Author
Carla Kaya Perez-Gallardo was raised by three Ecuadorian women in Queens, New York, in a home with a busy kitchen. In seventh grade, she started Saborines, a summer pie company named after her grandmother. She graduated from Bard College with a studio arts degree before plunging headfirst into the restaurant world.

Hannah Black was born and raised in Alabama and attended the Rhode Island School of Design, where she studied painting and developed a passion for cooking elaborate meals for her community. She has previously worked at Mission Chinese Food in New York City and Hartwood in Tulum, Mexico, before laying down roots in the Hudson Valley.

Wheeler graduated from Bard College with a literature degree and was the general manager and wine guy at Lil' Deb's Oasis from 2017 to 2021.

Meshell Ndegeocello is a Grammy-winning singer-songwriter and just a soul on the planet. She is based in Hudson, New York, where she writes, records, and composes for film and television.