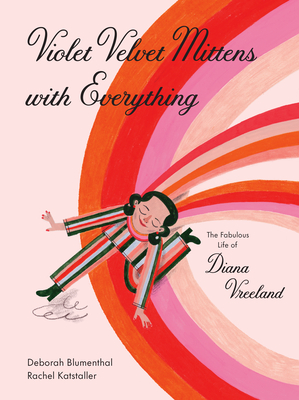 Violet Velvet Mittens with Everything
The Fabulous Life of Diana Vreeland
Hardcover

* Individual store prices may vary.
Description
A Bologna Ragazzi Award "100 Best Picture Books of the Year" selection

This wonderful true story of iconic fashion editor Diana Vreeland teaches young readers that individuality is to be celebrated, and that even extraordinary dreams can come true.

Violet Velvet Mittens with Everything captures the dramatic, spectacular world of fashion icon Diana Vreeland, whose legacy at Harper's Bazaar, Vogue, and the Costume Institute of the Metropolitan Museum of Art continues to influence the fashion world today. As a little girl in Paris, Vreeland loved to read and dance, and most of all dress up. Her love of originality persisted through her career in fashion, where her work was colorful, zany, and never, ever boring. Violet Velvet Mittens with Everything captures Vreeland's larger-than-life personality with an infectiously extravagant tone and style, showing young readers that above dazzling and daring, being yourself makes the most lasting impact of all.

(Although Violet Velvet Mittens with Everything is a tribute to the life of Diana Vreeland, the book is not authorized by her Estate)
Praise For Violet Velvet Mittens with Everything: The Fabulous Life of Diana Vreeland…
"Violet, Velvet Mittens with Everything takes us on an extraordinary journey filled with colour, from Dianas' childhood in Paris to becoming the rule breaking Fashion Editor of Harpers Bazaar. In Dianas' own words 'The Eye has to Travel' so feast your eyes on Rachel Katstaller's elegant and witty illustrations and let Deborah's delightful story inspire us all to be a little bit more FABULOUS!"
- Eva Byrne, author and illustrator of Along Came Coco: A Story about Coco Chanel,


"A gorgeously fun tribute to the one and only Diana Vreeland"
- Julie Morstad, author of BLOOM: The Story of Elsa Schiaparelli,


"The intimidatingly fabulous Diana Vreeland (1903-1989), 20th-century tastemaker and editor of Harper's Bazaar and Vogue, breezily narrates this picture book tribute to her aesthetic achievements: "I turned fashion on its head, dreaming up stories of glamorous worlds." Blumenthal's Vreeland airily skims by biographical detail—the telling jumps from the figure's youthful love of dance to becoming "the Empress of Fashion" in a single spread. Instead, the figure's merrily madcap worldview dominates, building to a series of dazzling quotes from her legendary column, "Why Don't You?" ("Have every room done up in every color green?") Katstaller's trendy, clean-lined illustrations decorously tidy Vreeland's opulent world, taming the visionary wildness of her famous red room. Still, it's a winsome, if partial, introduction to a style icon who chose to "never, ever [be] boring.""
- Publishers Weekly,


"This book does what the best picture book bios do: It makes the subject inviting while offering a path for young readers on how they might live their own lives. One of the more charming books of the year."
- School Library Journal Fuse 8 Blog,


"This book is a joy to read and to look at with each page  illustrated with  the most delightful and clever sketches.  Have fun and enjoy this book. You deserve it!"
- Fern Mallis, Creator of New York Fashion Week,


"Readers get a glimpse into the life of fashion icon Diana Vreeland in this picture book biography....The mixed media artwork is the star of the book. The bold colors pop and the stylistic design makes a nice counterpoint to the text."
- School Library Journal ,


"This picture book biography captures the dynamic voice and dramatic sense of style of fashion icon Diana Vreeland, whose favorite color was 'RED RED RED.'"
- Washington Parent,


"A fitting tribute to [Diana Vreeland's] fashion finesse."
- Booklist,

Princeton Architectural Press, 9781648960635, 48pp.
Publication Date: November 16, 2021
About the Author
Deborah Blumenthal is the author of twenty-four books for children and adults, and an award-winning journalist. She lives in New York City with her husband and their rescue dog, Nellie.

Rachel Katstaller is a children's book illustrator who lives in the Austrian Alps with her cat, Hemingway, at her side.