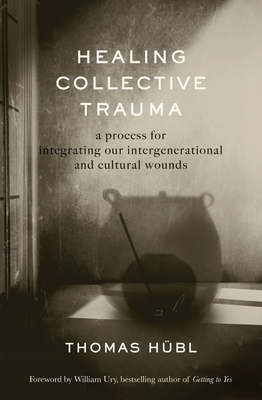 Healing Collective Trauma
A Process for Integrating Our Intergenerational and Cultural Wounds
Paperback

* Individual store prices may vary.
Other Editions of This Title:
Digital Audiobook (11/16/2020)
Hardcover (11/17/2020)
Description
A Comprehensive Guide to Understanding and Healing Shared Trauma

What can you do when you carry scars not on your body, but within your soul? And what happens when those spiritual wounds exist not just in you, but in everyone in your family, community, and even beyond?

Spiritual teacher Thomas Hübl has spent years investigating why it is that old and seemingly disconnected traumas can seed their way through communities and across generations. His work culminates in Healing Collective Trauma, a new perspective on trauma that addresses both its visible effects and its most hidden roots. Thomas combines deep knowledge of mystical traditions with the latest scientific research. "In this way," writes Thomas, "we are weaving a double helix between ancient wisdom and contemporary understanding."

Thomas details the Collective Trauma Integration Process, a group-based modality for evoking and eventually dissolving stuck traumatic energies. Providing structured practices for both students and group facilitators, Healing Collective Trauma is intended to build a practical tool kit for integration.

Here, you will learn:

• The innumerable ways trauma shapes our world—from identity and health to economy, geopolitics, and the state of the environment
• The concept of "trauma loyalty"—unconscious group bonds based in a pain narrative
• How the climate crisis is both a manifestation of humanity's collective trauma and an opportunity to heal
• "Retrocausality"—how the power of presence can reshape the past and make new futures possible

Including essays contributed by experts such as Dr. Gabor Maté, Dr. Otto Scharmer, Dr. Christina Bethell, and Ken Wilber, Healing Collective Trauma offers not just an advanced look at community trauma but also a hopeful glimpse of the future. As Thomas declares, "Together, I believe we can and must heal the 'soul wound' that marks us all. In so doing, we will awaken to the luminous possibility and profound potential of our true, mutual nature as humankind."
Praise For Healing Collective Trauma: A Process for Integrating Our Intergenerational and Cultural Wounds…
"Thomas Hübl's exploration of collective trauma strikes at a core issue confronting our modern civilization." —Gabor Maté, MD, author of In the Realm of Hungry Ghosts

"Brilliant, compassionate, and practical support for collective healing in a traumatized world." —Jack Kornfield, PhD, author of A Path with Heart

"Our world is waiting for us to develop into a new way of being on this precious planet we share with one another and with all of nature. Thomas Hübl's wise and thought-provoking book invites us into the important step of becoming systems-sensing beings, opening our awareness to the profound interconnections that often are beneath what is visible to the eye. Mystics are sometimes defined as those who believe in the reality of the invisible; in this mind-opening sense, a scientific view inherently is concerned, too, with that which cannot be perceived with our eyes. As a mystic, our experienced guide offers his own experience with feeling into collective trauma and how our cross-generational experiences of overwhelming events can be profoundly impairing our personal and our shared ways of living in the subjective and objective worlds. Drawing on his own extensive, international experiences of helping heal systems trauma, the witnessing of the collective healing process by participants in his innovative workshops, and the insights of many luminaries in the field, Hübl has woven a poetic and profound journey for the reader to consider new ways of both understanding and healing our collectively waiting world to support the cultivation of a new, compassionate, and connected life for us all." —Daniel J. Siegel, MD, New York Times bestselling author of Aware, Mind, Brainstorm, Mindsight, and The Developing Mind; executive director, Mindsight Institute; clinical professor, UCLA School of Medicine

"In Healing Collective Trauma, Thomas Hübl identifies the most pressing challenge to humanity. In contrast to the contemporary focus on external sources of challenge such as climate change and famine, we become reacquainted with our history as a self-traumatized species. This history highlights that the greatest challenges to humanity are the products of how we treat each other. Rather than emphasizing the embedded feelings of intergenerational wounds as motivators to achieve, to dominate, and at times to justify retribution, the real task confronting humanity is to successfully resolve these self-perpetuating and self-inflicted injuries. If we can heal these wounds, we will have the opportunity to experience the benefits of becoming a truly connected species and sharing the generative and expansive products of feeling safe and trusting others." —Stephen W. Porges, PhD, author of The Polyvagal Theory

"We tend to believe in free will. That it is we who ultimately determine our destinies; that we are the captains of our own ships. However, in experiencing depth therapy and honest reflection, we soon realize that this is an illusion. We discover, rather, that our seemingly independent choices are built upon a shaky foundation. Unbeknownst to us, we may be profoundly influenced by events, not only from families and life events, but by circumstances that our ancestors (and their ancestors in turn) have experienced during lifetimes long past. And yet their impact persists outside the realm of our conscious awareness. These lingering 'ghosts' have powerful influences on our emotions, reactions, behaviors, and choices. Some of these ancestral influences have had negative (even traumatic) effects on us, while others are life supporting and life affirming. Addressing ancestral influences may also be a key in transforming hate to compassion and understanding between previously warring factions. These essential factors are often neglected in peacemaking efforts. In this comprehensive book, Thomas Hübl brings in a spiritual and 'mystical' dimension, to greatly increase our understanding of these powerful hidden influences and how to heal them. This book is a gift to all those (professional and laypersons) wanting to enrich their lives and find greater freedom in this life." —Peter A. Levine, PhD, author of Waking the Tiger, Healing Trauma, and Trauma and Memory

"Modern mystic Thomas Hübl offers a work so rich it encompasses three domains, any one of which alone would have been fresh and important: He raises the issue of collective trauma from the latest psychological perspectives. He moves seamlessly to explore what he terms 'subtle' processes—energetic, intuitive. He integrates both perspectives, weaving between a precise description of the nervous system and processes of the soul, and he offers specific tools and techniques for healing at both levels. A much-needed brilliant addition to the literature on trauma." —Terry Real, author of I Don't Want to Talk about It and founder of Relational Life Institute

"This is a very important book. Many years ago, my client taught me that parts of them carried what I came to call 'legacy burdens,' which are powerful beliefs and emotions that they absorbed from ancestors or from the culture. I learned how to unburden individuals and wondered if it was possible to do that with large groups. I was thrilled when I learned that Thomas Hübl had been doing so with what he called 'collective trauma.' I believe his work has tremendous potential for bringing harmony and healing to the many polarizations in societies that are unconsciously driven by past traumas. While we have increasingly come to understand the profound impact traumas have on individual lives, we have yet to fully appreciate the impact of historic violence or catastrophe on the paths that groups or societies take. By intuiting, studying, and describing the effects of collective trauma, Hübl clarifies the roots of war and of the disintegration of countries or ethnic groups. He offers a clear method for releasing the burdens of collective trauma en masse, which he has used with large groups in different countries around the world. I am so grateful for this work." —Richard C. Schwartz, PhD, creator of the Internal Family Systems model of psychotherapy and adjunct faculty, Department of Psychiatry, Harvard Medical School

"Thomas Hübl offers a wise and textured understanding of the tapestry of collective trauma and how attending to cultural and historical threads heals the very foundation of humanity." —Ruth King, author of Mindful of Race: Transforming Racism from the Inside Out and founder of the Mindful of Race Institute
Sounds True, 9781649630544, 320pp.
Publication Date: April 18, 2023
About the Author
Thomas Hübl is a renowned teacher, author, and international facilitator whose lifelong work integrates the core insights of the great wisdom traditions and mysticism with the discoveries of science. Since the early 2000s, he has been leading large-scale events and courses that focus on the healing and integration of trauma, with a special focus on the shared history of Israelis and Germans. Over the last decade, he has facilitated dialogue with thousands of people around healing the collective traumas of racism, oppression, colonialism, and genocides, in the US, Israel, Germany, Spain, and Argentina. He has been teaching workshops and presenting trainings for Harvard Medical School since 2019. His nonprofit organization, the Pocket Project, works to support the healing of collective trauma throughout the world. He is the author of the book Healing Collective Trauma: A Process for Integrating Our Intergenerational and Cultural Wounds, which outlines his methodology called the Collective Trauma Integration Process as a safe framework for guiding groups through collective trauma. Learn more at thomashuebl.com.

Julie Jordan Avritt is a professional ghostwriter, author collaborator, content advisor, and integral thinker working with global changemakers, cultural upstarts, and renegades on a mission to inspire humanity in a time of great transition. Her clients have had bestsellers on the New York Times's and Washington Post's bestseller lists and have been placed in highly ranked publications. She lives in Asheville, North Carolina, with her daughter, Journey, and two feline companions, Truman Catpote and Esther, Destroyer of Worlds.