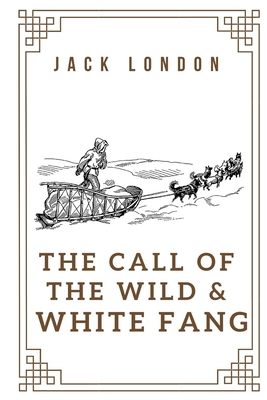 The Call of the Wild & White Fang
Paperback

* Individual store prices may vary.
Other Editions of This Title:
Paperback (1/11/2020)
Paperback (10/20/2018)
Paperback (2/18/2016)
Paperback (10/5/2018)
Paperback (1/7/2012)
Paperback (8/21/2018)
Paperback (4/15/2019)
Description
Jack London's two most beloved dog stories in Alaska were inspired by his experiences in the Yukon during the Klondike Gold Rush. ABOUT JACK LONDON'S NOVELS
Jack London's novels and ruggedly individual life seemed to embody American hopes, frustrations, and romantic longings in the turbulent first years of the twentieth century, years infused with the wonder and excitement of great technological and historic change. The author's restless spirit, taste for a life of excitement, and probing mind led him on a series of hard-edged adventures from the Klondike to the South Seas.
Out of these sometimes harrowing experiences - and his fascination with the theories of such thinkers as Darwin, Spencer, and Marx - came the inspiration for novels of adventure that would make him one of America's most popular writers.
The Call of the Wild, considered by many London's greatest novel, is a gripping tale of a heroic dog that, thrust into the brutal life of the Alaska Gold Rush, ultimately faces a choice between living in man's world and returning to nature. Adventure and dog-story enthusiasts as well as students and devotees of American literature will find this classic work a thrilling, memorable reading experience.
Of all Jack London's fictions none have been as popular as his dog stories. In addition to The Call of the Wild, the epic tale of a Californian dog's adventures during the Klondike gold rush, this combo edition includes White Fang. This edition features the tales of Jack London, a superb storyteller with a taste for adventure and an instinct for the fierce justice of the wild.
About Jack London
John London (January 12, 1876 - November 22, 1916) was an American novelist, journalist, and social activist. A pioneer in the world of commercial magazine fiction, he was one of the first writers to become a worldwide celebrity and earn a large fortune from writing. His most famous works include The Call of the Wild and White Fang, both set in the Klondike Gold Rush, as well as the short story To Build a Fire. Here you will find all three of these great works to enjoy in this John London collection.
Synopsis
WHITE FANG
Dark spruce forest frowned on either side the frozen waterway. The trees had been stripped by a recent wind of their white covering of frost, and they seemed to lean towards each other, black and ominous, in the fading light. A vast silence reigned over the land. The land itself was a desolation, lifeless, without movement, so lone and cold that the spirit of it was not even that of sadness. There was a hint in it of laughter, but of a laughter more terrible than any sadness-a laughter that was mirthless as the smile of the sphinx, a laughter cold as the frost and partaking of the grimness of infallibility. It was the masterful and incommunicable wisdom of eternity laughing at the futility of life and the effort of life.
THE CALL OF THE WILD
Buck did not read the newspapers, or he would have known that trouble was brewing, not alone for himself, but for every tide-water dog, strong of muscle and with warm, long hair, from Puget Sound to San Diego. Because men, groping in the Arctic darkness, had found a yellow metal, and because steamship and transportation companies were booming the find, thousands of men were rushing into the Northland. These men wanted dogs, and the dogs they wanted were heavy dogs, with strong muscles by which to toil, and furry coats to protect them from the frost.
Independently Published, 9781658805278, 210pp.
Publication Date: January 11, 2020