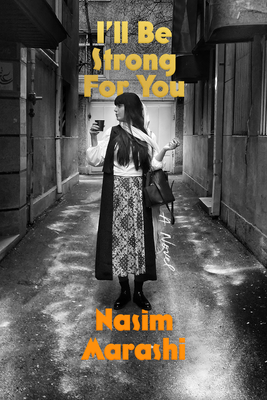 I'll Be Strong for You
A Novel
Hardcover

* Individual store prices may vary.
Description
This award-winning debut novel by Iranian journalist Nasim Marashi follows the lives of three young women in Tehran over the course of two seasons as they pursue their wildly different dreams even as they discover that it may mean breaking with the past and endangering their longstanding friendship.

Three recent college graduates in Tehran struggle to find their footing in this award-winning debut by Iranian journalist Nasim Marashi. Roja, the most daring of the three, works in an architecture firm and is determined to leave Tehran for graduate school in Toulouse. Shabaneh, who is devoted to her disabled brother and works with Roja, is uncertain about marrying a colleague as it would mean leaving her family behind. Leyla, who was unable to follow her husband abroad because of her commitment to her career as a journalist, is wracked with regret. Over the course of two seasons, summer and fall, in bustling streets and cramped family apartments, the three women weather setbacks and compromises, finding hope in the most unlikely places. Even as their ambitions cause them to question the very fabric of their personalities and threaten to tear their friendship apart, time and again Roja, Shabaneh and Leyla return to the comfort of their longtime affection, deep knowledge and unquestioning support of each other. Vividly capturing three very distinct voices, Marashi's deeply wrought narrative lovingly brings these young women and their friendship to life in all their complexity.
Praise For I'll Be Strong for You: A Novel…
"Moving....Marashi succeeds at depicting her characters' limited freedom in an otherwise modern society. Readers of women's fiction will appreciate this."
— Publisher's Weekly

"This book accomplishes the amazing feat of allowing each of us to recognize a bit of ourselves in its characters, despite being firmly set in Iran. It is filled with realistic and touching portraits that show just how much we have in common with each other, despite our differences, beyond identities and borders. Bravo as well to the translator, Poupeh Missaghi, for the fluidity of the storytelling."
— Négar Djavadi, award-winning author of Disoriental

"Nothing short of extraordinary. A born enchanter in her native land — Iran — makes landfall on our shores. I couldn't stop reading once I began, and remained, forever, as if on the threshold of her dreams."
— Lila Azam Zanganeh, Booker judge, author of The Enchanter: Nabokov and Happiness

"I've heard lots of buzz about Nasim Marashi's debut novel and after reading I'll Be Strong for You, I am happy to know all the hype was deserved! Marashi delivers this story of three young women in Iran over two seasons with astonishing accuracy, empathy, and artistry. Their dilemmas are both small and large—the intimacy here is also uniquely universal in its predicament. I am glad we have Marashi as our guide here through this journey into the real soul of Iranian life today."
—Porochista Khakpour, author of Sick and of Brown Album: Essays on Exile & Identity

"I'll Be Strong for You is a beautiful story of friendship and love, rendered in the context of Iran. At once universal and specific to Iranian familial and social culture, written with an elegant and true pen, it is an extremely endearing novel. The kind of book that one never wishes to finish…"
— Parisa Reza, author of The Gardens of Consolation
Astra House, 9781662600364, 208pp.
Publication Date: April 6, 2021
About the Author
Nasim Marashi was born in Tehran, Iran in 1984. She started her career in journalism in 2007 and became a screenwriter in 2013. She won the Premier Prix in Bayhaqi Story Prize (2014) for the short story, "Nakhjir," and the Premier Prix in Tehran Story Prize (2015) for the short story, "Rood." Her debut novel, I'LL BE STRONG FOR YOU (Cheshmeh Publications, 2015) was selected as the Best Novel of the Year in the 8th Jalal-e Al-e-Ahmad Prize and is in its 40th printing. The book was translated into Italian and Kurdish and received great acclaim. Marashi's second novel, HARAS (Cheshmeh Publications, 2016) is in its 20th printing and has been translated into Turkish and Kurdish. Marashi is the co-writer of the feature film, "Avalanche" (2015), and the documentary "20th Circuit Suspects" (2017).