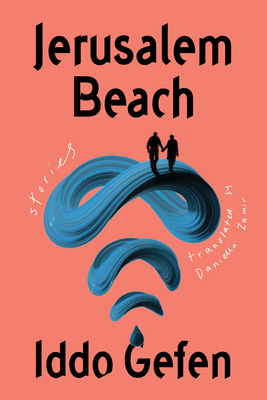 Jerusalem Beach
Stories
Hardcover

* Individual store prices may vary.
Description
"This vigorous, inventive work will surely fire up readers' neurons." — Starred Review, Publisher's Weekly

For fans of Etgar Keret, a debut collection that fuses the humor of everyday life in Israel with technology's challenges and the latest discoveries about the human brain.

At once compassionate, philosophical, and humorous, Jerusalem Beach is a foray into the human condition in all its contradictions. Through a series of snapshots of contemporary life in Israel, Gefen reveals a world that's a step from the familiar.

A man's grandfather joins an army platoon of geriatrics looking for purpose in old age. A scheming tech start-up exposes the dire consequences of ambition in trying to share human memories. An elderly couple searches for a beach that doesn't exist. And, a boy mourns his brother's death in an attempt to catch time like flies in his fist.

Entirely heartfelt and infused with pathos, Jerusalem Beach is an exploration of both technology and the brain. Whether ruminating on the stakes of familial love or pitching the reader headlong into the absurdity of success and failure, Gefen leaves the reader intrigued throughout.
Praise For Jerusalem Beach: Stories…
"This vigorous, inventive work will surely fire up readers' neurons."
— Starred Review, Publisher's Weekly

"[Gefen's] philosophical concerns and ability to combine humor with grim resignation to the conditions of everyday life in Israel recall Etgar Keret."
— Kirkus Reviews

"Gefen makes imagined destinations as tangible as Tel Aviv, the Negev desert or Hadera. His characters and backdrops demonstrate the breadth of a people and a country and will make readers eager to see what he does next."
— Shelf Awareness

"The stories in Iddo Gefen's Jerusalem Beach are a series of original and, many times truly inspiring, attempts to seek and find humanity and tenderness at the least predictable places."
— Etgar Keret, author of Fly Already

"Jerusalem Beach accomplishes the impossible—at once playful and wrenching, surprising and organic, these stories are instant classics, if classics could somehow come from the future. Gefen's is a once-in-a-generation voice."
— Shelly Oria, author of New York 1, Tel Aviv 0

"Ironic, stirring, funny and exhilarating, Jerusalem Beach is a brilliant debut, and Gefen may be the best Israeli short story writer since Etgar Keret."
— Ayelet Gundar-Goshen, author of Waking Lions

"Sad and funny and full of wisdom and truth."
— Amos Oz, author of A Tale of Love and Darkness

"Jerusalem Beach signals the confidence and the probing talent of a mature writer, confident in his craft, who knows how to control a complicated storyline with an unexpected, enjoyable twist, while creating distinct characters that speak in many unique voices." 
— Arianne Melamed, Haaretz

"Iddo Gefen is the voice of his generation. But he's also a voice that's somewhat wiser than his generation; one that observes from the sidelines, or rather, from the perspective of an eighty-year-old grandfather...[Jerusalem Beach] is a fresh, imaginative and bold debut." 
— Eshkol Nevo, author of Three Floors Up

"A few of the pre­cise and often star­tling sto­ries in Iddo Gefen's excel­lent debut col­lec­tion may remind some read­ers of Etgar Keret's whim­si­cal approach to life's absur­di­ties, but Gefen's voice is assured­ly unique among younger Israeli writ­ers whose short sto­ries often seem to con­tain the deep emo­tion­al com­plex­i­ties of entire nov­els. [...] Gefen proves adept at tak­ing read­ers into very dark places while offer­ing qui­et notes of com­pas­sion and consolation."
— Ranen Omer-Sherman, Jewish Book Council
Astra House, 9781662600432, 304pp.
Publication Date: August 17, 2021
About the Author
Iddo Gefen was born in 1992 in Israel and currently resides in Tel Aviv. He works in neurocognitive research at the The Immersive Media & Cognition Group in Sagol Brain Institute, Sourasky Medical Center and Tel Aviv University, exploring how storytelling can improve our understanding of the human mind. Iddo leads an innovative study to diagnose aspects of Parkinson's disease using storytelling and augmented reality. Jerusalem Beach is his debut collection, and recipient of the Israeli Minister of Culture Award (2017); Iddo won the National Library of Israel "Pardes" Scholarship for young writers (2019). His debut novel, Mrs. Lilienblum's Cloud Factory, will be published by Astra House in 2022.