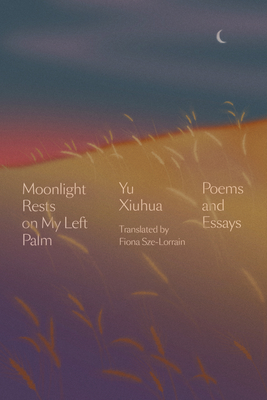 Moonlight Rests on My Left Palm
Poems and Essays
Hardcover

* Individual store prices may vary.
Description
Starting with the viral poem "Crossing Half of China to Fuck You," Yu Xiuhua's raw collection in Fiona Sze-Lorrain's translation chronicles her life as a disabled, divorced, single mother in rural China.

Yu Xiuhua was born with cerebral palsy in Hengdian village in the Hubei Province, in central China. Unable to attend college, travel, or work the land with her parents, Yu remained home where she could help with housework. Eventually she was forced into an arranged marriage that became abusive. She divorced her husband and moved back in with her parents, taking her son with her.

In defiance of the stigma attached to her disability, her status as a divorced single mother, and as a peasant in rural China, Yu found her voice in poetry. Starting in the late 90's, her writing became a vehicle with which to explore and share her reflections on homesickness, family and ancestry, the reality of disability in the context of a body's urges and desires.

Then, Yu's poem "Crossing Half of China to Fuck You" blew open the doors on the patriarchal and traditionalist world of contemporary Chinese poetry. She became an internet sensation, finding a devoted following among young readers who enthusiastically welcomed her fresh, bold, confessional voice into the literary canon.

Thematically organized, Yu's essays and poems are in conversation with each other around subjects that include love, nostalgia, mortality, the natural world and writing itself.
Praise For Moonlight Rests on My Left Palm: Poems and Essays…
"Yu finds the numinous in the very dust and air of Hengdian....Sze-Lorrain's translation successfully evokes Yu's transcendental connection to the world around her, from the grass at her feet to the sky above her."
—Anne Henochowicz, Los Angeles Review of Books

​"...a lyrical translation by Fiona Sze-Lorrain...The ruminative essays, rendered in elegant but somewhat mannered prose, offer context and insight on her life and poetry, [...] The poems, which compress her thoughts into daring and disconcerting forms, are another matter. [...] The multiplicity, therefore, becomes essential, as the poems are rarely frozen in a single feeling. Yu renders her life in a way that is irreducible." 
— Chris Littlewood, The Washington Post

"Yu Xiuhua's writing is steeped in the imagination [...] Many of the poems included in this work are moving precisely because of how they register the limits of the imagination, rather than its transformative capacities. [...] Rejecting the poetics of metaphor, lines like [Yu's] call on us to look closely, listen carefully, and notice the world around us."
—Rebecca Ruth Gould, Harriet Books, the Poetry Foundation

"Yu Xiuhua's Moonlight Rests on My Left Palm, translated by Fiona Sze-Lorrain, grows out of highly personal terrain. This farmer-poet says in an essay (Moonlight is sectioned by eight lyrical essays): 'We have man-handled so many words that I only dream of using them anew.' Yu says exactly what she means; and Sze-Lorrain honors the feeling and music in intimate translation. Thus, the poet's language rises out of the natural, tinged by elemental soil and light."
—Yusef Komunyakaa, author of Everyday Mojo Songs of Earth 

"'Truth once spoken tends to be false,' writes Yu Xiuhua in her incredible debut of essays and poems. I am smitten with Yu's powerful writing, erotic poetry, and reflections on disability in daily life. One poem reads, 'So risky, so heavy / O this love.' I want nothing but risk in poetry and I feel proud to be a disabled poet in Yu's company."
—The Cyborg Jillian Weise, author of Common Cyborg
 
"I love reading these poems and essays by Yu Xiuhua. I feel befriended by them, by her. Courage, honesty, a love of words, and a wry sense of humor run through the pages of Moonlight Rests on My Left Palm, translated with grace and simplicity by Fiona Sze-Lorrain. When Yu writes in an essay, 'There is no better ode to life than a weed that grows ruthlessly and arches out of the ground, despite its trauma,' we know she is telling us her own story. And yet, in a poem called 'Wheat Has Ripened,' she says, 'I am pleased to have landed here / like a sparrow skirting through the sky-blue.' How can we be anything but grateful to a poet who ends a poem of love lost: 'I still hope / to err over and over'?"
—Mary Helen Stefaniak, author of The Cailiffs of Baghdad, Georgia
 
"I couldn't stop underlining phrases, sentences, whole passages that I wanted to quote, and think about! Yu Xiuhua's marvelous collection, a hybrid of poetry and poetical essays, each reflecting back on the other, is a transport into the soul, heart, and sensibility of a unique and exquisite mind. Fiona Sze-Lorrain's translation, generous with silence, space, and pitch-perfect transparency, is a triumph in its own right. This is the sort of book that you'll want to share immediately with your most thoughtful friend."
—Minna Zallman Proctor, author of Landslide: True Stories, editor of The Literary Review, and translator of Natalia Ginzburg and Fleur Jaeggy
Astra House, 9781662600470, 160pp.
Publication Date: September 14, 2021
About the Author
Born in 1976 in Hengdian, Hubei Province, China, Yu Xiuhua is a poet from an impoverished rural background who was born with cerebral palsy. Yu began writing poetry in 1998. In 2014, her poem "Crossing Half of China to Fuck You" became an online sensation, launching her career as a celebrity poet and writer. Her poetry collection Moonlight Rests on My Left Palm (Guangxi Normal University Press, 2015) sold over 300,000 copies, a record for Chinese poetry titles of the past three decades. Yu received the Peasant Literature Award in 2016. Still Tomorrow, an award-winning documentary film about her life and poetry, was released to critical acclaim the same year. She was also the recipient of the Hubei Literary Prize in 2018.