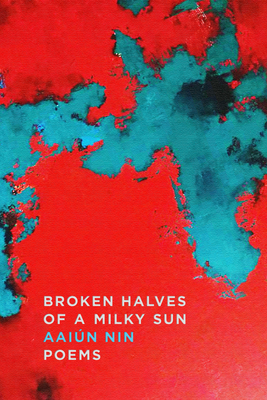 Broken Halves of a Milky Sun
Poems
Hardcover

* Individual store prices may vary.
Description
With the emotional undertow of Ocean Vuong and the astute political observations of Natalie Diaz, a powerful poetry debut exploring the effects of racism, war and colonialism, queer love and desire.

In their breathtaking international debut, Aaiún Nin plumbs the depths of the lived and enduring effects of colonialism in their native country, Angola. In these pages, Nin untangles complexities of exile, the reckoning of familial love, but also reveals the power of queer love and desire through the body that yearns to love and be loved. Nin shows the ways in which faith and devotion serve as forms of oppression and interrogates the nature of home by reclaiming the persistent echoes of trauma. A captivating blend of evocative prose and intimate testimony, Nin speaks to the universal vulnerability of existence.
Praise For Broken Halves of a Milky Sun: Poems…
"Incendiary and engrossing. Throughout this collection, Nin deals divine blows to white supremacy, colonialism, the heteropatriachy, Europe's unending assault on human life emanating from across the Mediterranean, and other institutions of systematic violence and inhumanity. With cutting and illuminating art in its highest form, Nin offers us stunning portrayals of love, lust, sorrow, hope, happiness, and pain that are sure to resonate deeply with readers. This is life-giving literature that will echo in my mind and chest indefinitely." 
— Massoud Hayoun, author of When We Were Arabs
Astra House, 9781662600791, 96pp.
Publication Date: February 1, 2022
About the Author
Aaiún Nin (born 1991) is a writer, mixed media artist and painter born in Luanda, Angola. Aaiún's poetry has been published in multiple Scandinavian magazines and journals, including Information, (un)told pages, Kritiker, Friktion, Forfatternes Klimaaksjon, and hvermandag.dk. They are also the contributing editor of the Danish magazine Marronage. They have performed and read at literary festivals like Oslo Internasjonale Poesifestival in Norway and at the Louisiana Literature Festival in Denmark. The leading Danish newspaper, Politiken, recently called Aaiún a "great, rare talent in Danish literature." Aaiún studied in Zimbabwe and South Africa. They currently reside in Poland.