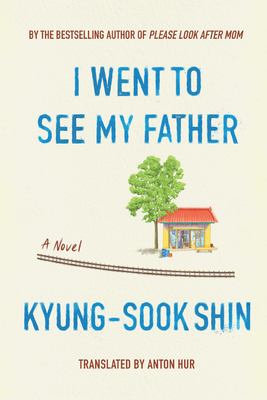 I Went To See My Father
A Novel
Hardcover

* Individual store prices may vary.
Description
An instant bestseller in Korea and the follow up to the international bestseller, Please Look After Mom; centering on a woman's efforts to reconnect with her aging father, uncovering long-held family secrets.

Two years after losing her daughter in a tragic accident, Hon finally returns to her home in the countryside to take care of her father. At first, her father only appears withdrawn and fragile, an aging man, awkward but kind around his own daughter. Then, after stumbling upon a chest of letters, Hon discovers the truth of her father's past and reconstructs her own family history.

Consumed with her own grief, Hon had been blind to her father's vulnerability and her family's fragility. Unraveling secret after secret and thanks to conversations with loving family and friends, Hon grows closer to her father, who proves to be more complex than she ever gave him credit for. After living through one of the most tumultuous times in Korean history, her father's life was once vibrant and ambitious, but spiraled during the postwar years. Now, after years of emotional isolation, Hon learns the whole truth, from her father's affair and involvement in a religious sect, to the dynamic lives of her own siblings, to her family's financial hardships.

What Hon uncovers about her father builds towards her understanding of the great scope of his sacrifice and heroism, and of his generation as a whole. More than just the portrait of a single man, I Went to See My Father opens a window onto humankind, family, loss, and war. With this long-awaited follow-up to Please Look After Mom—flawlessly rendered by award-winning translator Anton Hur—Kyung-Sook Shin has crafted an ambitious, global, epic, and lasting novel.
Praise For I Went To See My Father: A Novel…
"This is a book which reminds us that we all suffer from the same wounds, that no individual is free from the pains of their geography and that the greatest losses can only be healed where they all begin. Shin, once again, brings the unique history of a distant land into our homes and masterfully catches our hearts from the core, from the familiar bond of a child and a father. "  
—Defne Suman, author of The Silence of Scheherazade and At The Breakfast Table

"A book that makes you hurt all over, and yet smile at the same time. A book where the experience being shared is so immediately palpable, so universal yet Korean, and beautiful and powerful at the same time."
—Kim Hyesoon, award-winning author of Autobiography of Death

"Kyung-Sook Shin is the writer who made me into a writer. Reading her novel The Girl Who Wrote Loneliness made me discover a loneliness and unsettledness inside me that I didn't know existed, and thus comforted me on a sincere level. I Went to See My Father features the author's hallmark emotional richness combined with a precision of language that pierces the soul. I Went to See My Father shows us an entire generation that suffered through war, in the single character of a father, a modest cattle farmer. Just as Shin's Please Look After Mom gives a voice to the forgotten mother, this novel vividly shows the father as a figure whom we often overlook. Through a narrative so true as to be almost autobiographical, Shin guides us on a journey of heartache to literary catharsis."
—Sang Young Park, author of Love in the Big City

"An insightful contemplation of memory and connectedness between family members. Shin threads together a lyrical family drama and the multilayered spectrum of Korean history in a compelling epic. It is not only a story of love and pain between father and daughter, but of how memories can heal tragic wounds and restore damaged relationships. A powerful, elegant, page-turner."
—J.M. Lee, author of Broken Summer
Astra House, 9781662601378, 304pp.
Publication Date: April 11, 2023
About the Author
Kyung-Sook Shin is one of South Korea's most widely read and acclaimed novelists. She has been awarded the Manhae Grand Prize for Literature, the Dong-in Literary Award, the Man Asian Literary Prize, and many others. Shin is the author of 8 novels, 8 short story collections, and 3 essay collections, including the NYT-bestselling Please Look After Mom, which has been published in more than forty countries.
TRANSLATOR BIO: Anton Hur was double-longlisted and shortlisted for the 2022 International Booker Prize and has worked on several of Kyung-Sook Shin's books. He lives in Seoul.