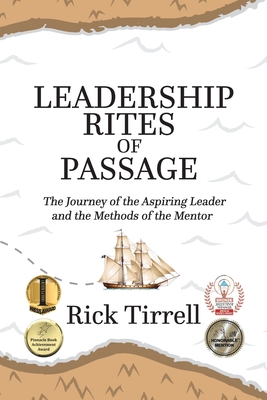 Leadership Rites of Passage
The Journey of the Aspiring Leader and the Methods of the Mentor
Paperback

* Individual store prices may vary.
Other Editions of This Title:
Digital Audiobook (2/27/2021)
Hardcover (2/28/2021)
Description
BUILD YOUR LEADERSHIP/STRENGTHEN YOUR MENTORING/RUN A SEMINAR
WINNER LEADERSHIP] 2022 INDEPENDENT PRESS AWARD
WINNER BUSINESS] FALL 2021 PINNACLE BOOK ACHIEVEMENT AWARDS
BRONZE MEDAL WINNER BUSINESS] 2022 AMERICAN BUSINESS AWARDS
HONORABLE MENTION BUSINESS] 2022 ERIC HOFFER BOOK AWARD
This book is for:
Aspiring Leaders
Leadership Mentors and Trainers
Leadership Seminar Facilitators Seeking an Agenda and Lesson Plans
Leadership Rites of Passage: The Journey of the Aspiring Leader and the Methods of the Mentor shows leaders how to master leadership skillsets from the basic to the ever-more sophisticated and shows mentors & trainers how to masterfully guide the leader to and through each successive challenge.
The long term work of personal leadership development is organized into 16 levels of leadership, each called a Rite of Passage. It displays how the aspiring leader masters each developmental task, how the mentor guides him, and it offers seminar discussion questions. These Rites of Passage are distinctly separated into four broad missions: Take the Lead, Create Followers, Become a Leader of Leaders, and Master the Psychology of Leadership.
This compelling fable follows an "everyman", Joe Miller, on his journey toward extraordinary leadership, from his earliest days through to his retirement speech. Early on, Joe finds a mentor, Sagen Cruz, who is masterfully probative and insightful as he draws Joe toward each leadership challenge. In 16 short but useful chapters we listen in on 16 mentoring sessions as readers passively gain the benefits of Sagen's careful guidance and witness Joe's work to influence people and build followership.
Very well organized and easy to read, it allows these leadership development tasks to emerge organically as the two men work together. Sagen tells Joe each Rite of Passage will continue calling to him until he masters it. Ignoring it will not make it go away.
Readers benefit from the way this leadership book uncovers the increasingly more difficult-to-detect core issues at play after Joe masters the basic essential elements of leadership. With each leadership challenge, Sagen points Joe to a masterwork in the literature which Sagen briefly summarizes, asks Joe to read, and expects Joe to incorporate as he learns how to lead. Readers can use this reference list to pursue their own subsequent leadership reading.
Each chapter is brief, impactful, and useful to master the art of leadership. At each chapter's end, three summaries offer us Joe's work, Sagen's executive coaching process, and thought-provoking case study discussion questions. The text and case study questions are complete lesson plans for a leadership seminar or training sequence. This text is likely to become one of your best leadership books and a treasured resource.
Purchasers of this book are encouraged to read also top 10 leadership books and leadership book best sellers by Brene Brown, John C. Maxwell, & Ken Blanchard.
You can apply this book to:
Team Leadership
Leadership Training
Executive Coaching
Nonprofit Leadership
Business Leadership
Leadership Mentoring
Healthcare Leadership
Leadership Self-Study
Books About Leadership
Leadership Lesson Plans
Leadership in Service Industries
Business Mentoring and Coaching
Personal Leadership Development
Self-Directed Leadership Development
Self-Managed Leadership Development
iUniverse, 9781663214591, 196pp.
Publication Date: February 28, 2021
About the Author
For nearly thirty years, Rick Tirrell, Ph.D., has helped leaders build their skills in publicly traded companies, privately held firms, nonprofits, and government organizations. His interpretation of the art and science of leadership gives the aspiring leader an actionable toolbox for developing effective leadership skills. His seminars convert leadership theory into useful and achievable steps that every leader can take. His experience comes from frontline supervisors as well as the corner office, and from having started and led two companies himself. His Ph.D. is in psychology and this is his fourth business book. Contact Rick through the website www.navigatorgroupinc.com.