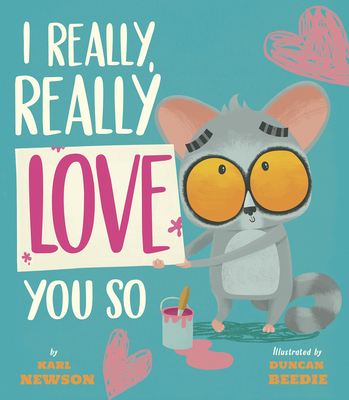 I Really, Really Love You So
Hardcover

* Individual store prices may vary.
Description
The young animal in this sweet story is determined to find increasingly extravagant ways of describing how much they love their parent—even when the parent is snoring like a lion! From the best-selling team of author Karl Newson and illustrator Duncan Beedie.

In this sweet story, a young animal wants to express just how much they love their parent, so they look for increasingly extravagant ways of doing so. From climbing the coldest mountain to wrestling a crocodile, they're determined to demonstrate the amount of love they have to give. But could there be a simpler—and even more special—way to show their love? From the bestselling team of author Karl Newson and illustrator Duncan Beedie.
Tiger Tales, 9781664300187, 32pp.
Publication Date: January 3, 2023
About the Author
Karl Newson is a children's book author and illustrator from Norwich, England. When he isn't writing or doodling, Karl enjoys watching science fiction movies, talking to his next door neighbor's cat, and listening to music from the 1960s. Karl currently lives in London.

Duncan Beedie is an author and illustrator with more than 15 years of experience working in children's media. He began his career in children's TV as an animator before branching into design and animation for websites, games, and educational apps. In his spare time, Duncan likes to walk his dog and help his daughter improve her video-gaming skill set.