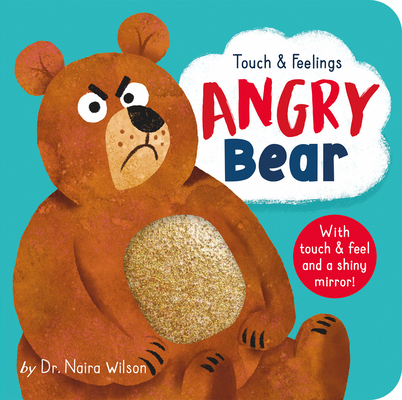 Touch and Feelings
Angry Bear
Board book

* Individual store prices may vary.
Description
Written by a child psychologist, this adorable touch-and-feel book introduces children to the concept of anger and offers tips on how to overcome this feeling whenever it arises.

Recognizing and dealing with emotions is an important part of a child's development, and this tactile touch-and-feel book is an excellent introduction to the concept of anger. Written by a child psychologist who specializes in children's emotions, Angry Bear explores the different ways that the adorable bear character feels angry. Sometimes the bear wakes up grumpy in the morning; sometimes things get dropped and break. But it's good to let out the angry feelings to make room for the happier feelings to fit! Includes a child-safe mirror so children can see exactly how they look when they're angry—and then feeling happier!

Tiger Tales, 9781664350533, 10pp.
Publication Date: January 17, 2023
About the Author
Dr. Naira Wilson is a clinical psychologist specializing in childhood mental health. She has a passion for early intervention and feels privileged to spend time with young people, who teach her a great deal about resilience, perseverance, and determination. Naira worked for many years in the NHS and now runs The Little Therapy Room in Oxford. Her Touch & Feelings series was inspired by a desire to help the very youngest child understand and manage their emotions. Naira's hobbies include sewing and cooking, and more recently, gardening. But her greatest love is her husband and her two children, who keep her inspired every day.

David Creighton-Pester is an illustrator and designer from Hamilton, New Zealand, where he lives with his wife and two young children. His illustration work has been used on products and published in books around the world, including the UK, New Zealand, Australia, France, Spain, the United States, and Canada.