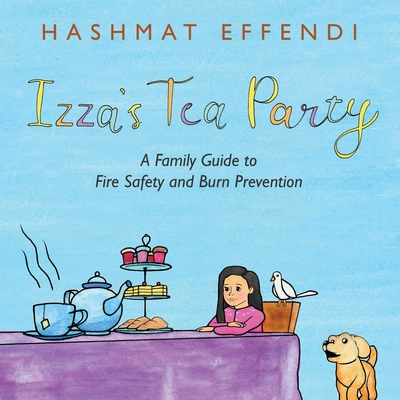 Izza's Tea Party
A Family Guide to Fire Safety and Burn Prevention
Paperback

* Individual store prices may vary.
Other Editions of This Title:
Hardcover (6/7/2021)
Description
The story revolves around a 5-year-old girl Izza, visiting her grandparent's house for a tea party along with her mother and pets Sonu (bird) and Ella (dog). It teaches children to be careful around hot liquids and stove. The book bids a promise for children to always stay Five Steps Away from hot stove and hot liquids and tell their friends to do the same. It includes a pledge for parents to protect their children from burns, a quiz, activities and a Super-Duper Safety Pro Certificate for children. In the end it teaches first aid in case of scald burns.
Authorhouse, 9781665519786, 32pp.
Publication Date: June 7, 2021
About the Author
I love children and I love reading to them and that is why I love children's books. When I travel to developing countries for a medical mission, I carry children's books for the patients. I have noticed when I read to them, the excitement lights up their face and gives a twinkle in their eyes, though most often they don't understand the language. I am very grateful for your time in reading my personal message. My name is Hashmat Effendi, since 1997, I am a humanitarian reaching out to suffering and aching children who are struggling to live a normal life with pain caused by deformities or disfigurements and no means for treatment. Through House of Charity, we are bridging the gap between treatment and patient by bringing medical and surgical treatment to children suffering with severe burns and congenital deformities all around the globe. I have been a foster mother to 167 children from all over the world. For those children, their treatment was available but the tragedy was that it was simply beyond their reach. Working with Burn victims for over 25 years I have seen how fast life can change. I have watched children playing happily in their courtyard (homes) and the next moment they accidentally get burned by either fire, hot water or beverage or simply just by stepping barefoot on a live electric wire. The grave tragedy of these burns led me to embark on this journey of healing as many children as possible. But I never thought for myself, that from being completely healthy and active, my life will be changed forever by following two words .... "IT'S CANCER". The cancer diagnosis completely turned my world upside down and the treatment took so much from me mentally, physically and spiritually that to me it seemed that there was nothing left in me. It was while I was struggling with my journey of fighting cancer, my grandson Adam started reading to me to cheer me up and my granddaughter Izza helped me with developing the characters of this book with her toys.