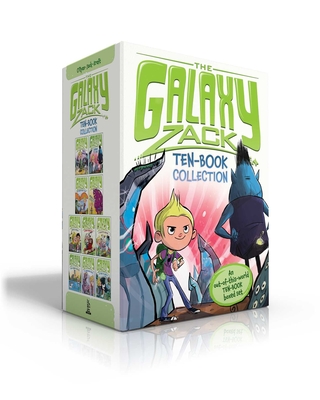 The Galaxy Zack Ten-Book Collection
Hello, Nebulon!; Journey to Juno; The Prehistoric Planet; Monsters in Space!; Three's a Crowd!; A Green Christmas!; A Galactic Easter!; Drake Makes a Spash!; The Annoying Crush; Return to Earth!
Paperback

* Individual store prices may vary.
Description
The first ten Galaxy Zack books are now available in one stellar boxed set!

Planet hop with Zack Nelson on his galactic adventures as he makes new friends, explores a newly discovered planet, helps a dinosaur get back to its prehistoric home, befriends a space monster, and much more in this awesome ten-book collection!

With easy-to-read language and illustrations on almost every page, the Galaxy Zack chapter books are perfect for beginning readers.

This out-of-this-world collection includes:
Hello, Nebulon!
Journey to Juno
The Prehistoric Planet
Monsters in Space!
Three's a Crowd!
A Green Christmas!
A Galactic Easter!
Drake Makes a Spash!
The Annoying Crush
Return to Earth!
Little Simon, 9781665902427, 1280pp.
Publication Date: May 11, 2021
About the Author
Ray O'Ryan has loved space stories ever since he watched the very first episode of Star Trek. He loves to imagine what traveling across the galaxy might be like and is a bit jealous of Galaxy Zack in this regard. Ray lives in the beautiful Catskill Mountains in upstate New York with his wife and two lovable, zany cats named Stitch and The Way.

Colin Jack is originally from Vancouver, Canada, and has illustrated several children's books. He currently works at DreamWorks Animation as a story artist and character designer and lives in the Bay Area with his wife and two sons.

Jason Kraft grew up with a passion for drawing. He has developed that passion into a humble career that has allowed him to work in all facets of the entertainment field all over the globe—from toy design to feature animation. He has now settled in Ottawa, Ontario, with his wife, Christina.