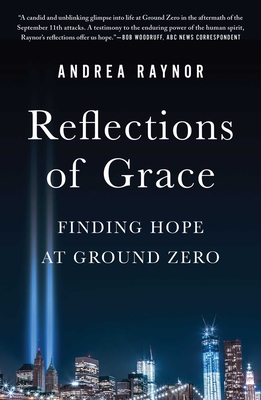 Reflections of Grace
Finding Hope at Ground Zero
Paperback

* Individual store prices may vary.
Description
A moving, life-affirming collection of memories—some from the unforgettable The Voice That Calls You Home—and guidance from one of the chaplains who served at Ground Zero after 9/11.

In the days after 9/11 at Ground Zero, Andrea Raynor saw firsthand the courage and strength among the first responders and other heroes who worked tirelessly during the recovery effort. Now, she shares with us the wisdom she gained to help us during our darkest days. Including excerpts from her acclaimed essay collection The Voice That Calls You Home, this stirring tribute to all those affected by the attacks eloquently explores the power of community, hope, and healing.
Praise For Reflections of Grace: Finding Hope at Ground Zero…
"Grace is an apt word for the solace and healing found in these sublimely crafted pages. Andrea Raynor is herself a reflection of grace who continues to mirror for us hope in the midst of despair and beauty in the face of destruction."






— Father Edward L. Beck, C.P., CNN Religion Commentator

"In this moving collection, Chaplain Andrea Raynor offers a candid and unblinking glimpse into life at Ground Zero in the aftermath of the September 11thattacks. As we walk with her around the site and into the temporary morgue, we encounter everyday people called to perform extraordinary and sacred tasks. She captures quiet moments that pass between strangers and the fierce determination of a city to reclaim its dead and to rise again. A testimony to the enduring power of the human spirit, Raynor's reflections offer us hope."




— Bob Woodruff, ABC News Correspondent

"Raynor has given us a gift: a tender recounting of the stories about our nation's heroes – the men and women laboring tirelessly in the former WTC site – as they frantically sought to find any survivors, and ultimately, with the greatest respect, to find and bless the remains of the dead."
— Lyndon F. Harris, Former Priest-in-Charge, Saint Paul's Chapel (April 2001 to December 2002)
Atria Books, 9781668001189, 112pp.
Publication Date: September 28, 2021
About the Author
Andrea Raynor received her Master of Divinity from Harvard Divinity School and served as a chaplain at Ground Zero after the 9/11 terrorist attacks. A cancer survivor herself, she now continues helping others through her speaking engagements and bereavement work. She lives in Rye, New York.