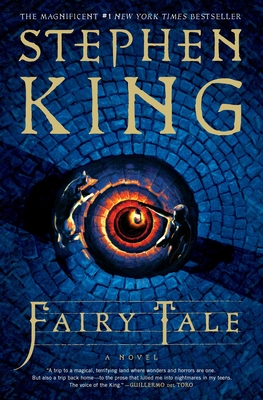 Fairy Tale
Hardcover

* Individual store prices may vary.
Other Editions of This Title:
Digital Audiobook (9/5/2022)
CD-Audio (9/6/2022)
Library Binding, Large Print (9/28/2022)
Description
Legendary storyteller Stephen King goes into the deepest well of his imagination in this spellbinding novel about a seventeen-year-old boy who inherits the keys to a parallel world where good and evil are at war, and the stakes could not be higher—for that world or ours.

Charlie Reade looks like a regular high school kid, great at baseball and football, a decent student. But he carries a heavy load. His mom was killed in a hit-and-run accident when he was seven, and grief drove his dad to drink. Charlie learned how to take care of himself—and his dad. When Charlie is seventeen, he meets a dog named Radar and her aging master, Howard Bowditch, a recluse in a big house at the top of a big hill, with a locked shed in the backyard. Sometimes strange sounds emerge from it.

Charlie starts doing jobs for Mr. Bowditch and loses his heart to Radar. Then, when Bowditch dies, he leaves Charlie a cassette tape telling a story no one would believe. What Bowditch knows, and has kept secret all his long life, is that inside the shed is a portal to another world.

King's storytelling in Fairy Tale soars. This is a magnificent and terrifying tale in which good is pitted against overwhelming evil, and a heroic boy—and his dog—must lead the battle.

Early in the Pandemic, King asked himself: "What could you write that would make you happy?"

"As if my imagination had been waiting for the question to be asked, I saw a vast deserted city—deserted but alive. I saw the empty streets, the haunted buildings, a gargoyle head lying overturned in the street. I saw smashed statues (of what I didn't know, but I eventually found out). I saw a huge, sprawling palace with glass towers so high their tips pierced the clouds. Those images released the story I wanted to tell."
Praise For Fairy Tale…
Praise for Fairy Tale

"King has said on various occasions that Fairy Tale was written while in the depths of the pandemic and the Trump presidency, when he needed to write a book he himself would enjoy. The experiment is a success. Fairy Tale arrives just in the nick of time for those of us ready for some old fashioned escapism."
—The Portland Press Herald

"You know it's going to be a rich season of reading in Chicago when even the new Stephen King is set in Chicago. Or rather, a portal to the underworld is found outside Chicago. Either way, eventually you'll look up and notice: The world seems new again… Stephen King's lovely Fairy Tale (a mere 600 pages, modest by King standards) is not scary, but as a fable about an Illinois teenager gifted the key to a menacing underworld, it captures the creeping suspense of childhood classics, not to mention the decay of suburbia. (Its vintage-style illustrations don't hurt, either.)"
—The Chicago Tribune

"Teenage hero Charlie Reade embarks on a fantastical journey in the horror author's new novel… an enjoyable journey into the kind of realm King seemed to have abandoned some time ago."
—Clark Collis, Entertainment Weekly

"Fairy Tale is Stephen King's most vivid exploration of the raw power of stories…ambitious, pure, and powerful…. one of King's grandest narrative statements, and another must-read book from a master."
—Matthew Jackson, Syfy Wire

"A sweeping yet intimate story about a boy, his dog, the fantastic hidden world he uncovers and the choices he must make… mesmerizing..."
—Emily Burnham, Bangor Daily News

"The book bursts with creativity... a profound story of good vs. evil that's timeless and timely… life-affirming. After turning that last page, you'll feel a little stronger in spirit, yearn for another story and, dare we say, maybe even live happily ever after."
—Brian Truitt, USA Today

"A sweeping tale that pays homage to the simple stories so many of us grow up hearing… this tender optimism is the beating heart of Fairy Tale. Coupled with some of the best monsters Mr. King has detailed in years and the vivid evocation of a wondrous world."
—Pittsburgh Post-Gazette

"You'll be delighted to disappear into this charming coming-of-age tale and cheer for Charlie as he frees an oppressed people from a tyrannical ruler."
—The Christian Science Monitor

"A page-turner driven by memorably strange encounters and well-rendered, often thrilling action."
—The New York Times Book Review

"You'll be grateful that there are 600-plus pages of it to remind you several times over how much fun that kind of reading experience is… Good, evil, a kingdom to save, monsters to slay—these are the stuff that page-turners are made from."
—Laura Miller, Slate

"Spellbinding…packed with glorious flights of imagination and characteristic tenderness about childhood…vintage King at his finest."
—Esquire

"Just as full of magic, adventure, and the temptations of treasure as the title implies… In Fairy Tale, King takes tropes and twists them, making for a highly entertaining read."
—AV Club

"An escapist, enchanting tale of a place that's familiar but feels entirely new."
—The Washington Post

"This is vintage King, in the best way."
—USA Today

"Magnificent . . . classic King, and clearly written with joy. He is one of the best writers on childhood and teenagers, which continues in Fairy Tale."
—London Sunday Times

"King's storytelling in Fairy Tale soars. This is a magnificent and terrifying tale in which good is pitted against overwhelming evil, and a heroic boy—and his dog—must lead the battle."
—Bookreporter.com

"A grand, and naturally strange, entertainment from the ever prolific King...A tale that's at once familiar and full of odd and unexpected twists—vintage King, in other words."
—Kirkus, *STARRED* review

"A new novel from King means lots of interest and lots of holds… it should please King's existing fans, especially those who enjoyed the more complex otherworlds of the Dark Tower series or King's earlier fantasy work, The Eyes of the Dragon (1987)."
—Booklist
Scribner, 9781668002179, 608pp.
Publication Date: September 6, 2022
About the Author
Stephen King is the author of more than sixty books, all of them worldwide bestsellers. His recent work includes Fairy Tale, Billy Summers, If It Bleeds, The Institute, Elevation, The Outsider, Sleeping Beauties (cowritten with his son Owen King), and the Bill Hodges trilogy: End of Watch, Finders Keepers, and Mr. Mercedes (an Edgar Award winner for Best Novel and a television series streaming on Peacock). His novel 11/22/63 was named a top ten book of 2011 by The New York Times Book Review and won the Los Angeles Times Book Prize for Mystery/Thriller. His epic works The Dark Tower, It, Pet Sematary, Doctor Sleep, and Firestarter are the basis for major motion pictures, with It now the highest-grossing horror film of all time. He is the recipient of the 2020 Audio Publishers Association Lifetime Achievement Award, the 2018 PEN America Literary Service Award, the 2014 National Medal of Arts, and the 2003 National Book Foundation Medal for Distinguished Contribution to American Letters. He lives in Bangor, Maine, with his wife, novelist Tabitha King.