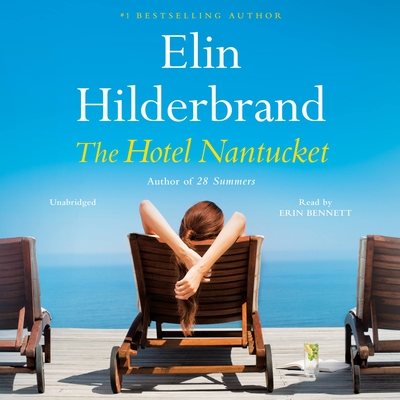 The Hotel Nantucket
CD-Audio

* Individual store prices may vary.
Other Editions of This Title:
Digital Audiobook (6/13/2022)
Hardcover (6/14/2022)
Paperback (2/7/2023)
Hardcover, Large Print (6/14/2022)
Description
"The queen of beach reads" (New York Magazine) delivers an immensely satisfying page-turner in this tale about a summer of scandal at a storied Nantucket hotel.

Fresh off a bad breakup with a longtime boyfriend, Nantucket sweetheart Lizbet Keaton is desperately seeking a second act. When she's named the new general manager of the Hotel Nantucket, a once Gilded Age gem turned abandoned eyesore, she hopes that her local expertise and charismatic staff can win the favor of their new London billionaire owner, Xavier Darling, as well as that of Shelly Carpenter, the wildly popular Instagram tastemaker who can help put them back on the map. And while the Hotel Nantucket appears to be a blissful paradise, complete with a celebrity chef-run restaurant and an idyllic wellness center, there's a lot of drama behind closed doors. The staff (and guests) have complicated pasts, and the hotel can't seem to overcome the bad reputation it earned in 1922 when a tragic fire killed nineteen-year-old chambermaid Grace Hadley. With Grace gleefully haunting the halls, a staff harboring all kinds of secrets, and Lizbet's own romantic uncertainty, is the Hotel Nantucket destined for success or doom?  

Filled with the emotional depth and multiple points of view that characterize Hilderbrand's novels (The Blue Bistro, Golden Girl) as well as an added dash of Roaring Twenties history, The Hotel Nantucket offers something for everyone in this compelling summer drama. 
Praise For The Hotel Nantucket…
"It's not officially summer until Elin Hilderbrand drops her annual page-turner. In this one, novelist Vivi dies in a hit-and-run and ascends to the Beyond, where she learns she has three "nudges" to influence events on earth. In this touching, scenic story, we learn what it is to let go and let life go on."—Good Housekeeping (on GOLDEN GIRL)

"It's almost summer, which means Hilderbrand's legions of fans will be anxious for her latest. . . . This is classic Hilderbrand. . . . hopefully, she has many more Nantucket tales in store."—Booklist (on GOLDEN GIRL)

PRAISE FOR 28 SUMMERS:

"Summer on Hilderbrand's Nantucket is never dull. This time she focuses on former lovers who now lead separate lives but share an island idyll once a year. Captivating and bittersweet."—People

"This sweeping love story is Hilderbrand's best ever. . . Her stories are relatable in an aspirational way, but her attention to detail is what makes her characters feel like living, breathing people you want to know. They would never skimp on citronella candles; they would save the least creaky rocking chair for you."—Elisabeth Egan, New York Times Book Review

"Hilderbrand steers this tightly written novel with ease and skill. . . . Less a story about a secretive affair and more a tale of sweet nostalgia and fate, this title will be popular with a wide audience."—Library Journal

"In her 25th novel, Hilderbrand gets everything right and leaves her ardent fans hungry for No. 26. Hilderbrand sets the gold standard in escapist fiction."—Kirkus Reviews
Little, Brown & Company, 9781668602805
Publication Date: June 14, 2022
About the Author
Elin Hilderbrand has lived year-round on Nantucket Island since 1994. In the summers, she has a house filled with young adult children and she loves cooking, going to the beach in her Jeep, and riding her Peloton. The Hotel Nantucket is her twenty-eighth novel.