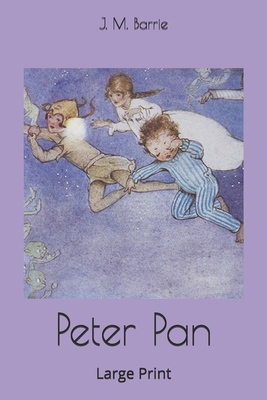 Peter Pan (Paperback)
Large Print
Independently Published, 9781670782076, 338pp.
Publication Date: December 2, 2019
Other Editions of This Title:
Digital Audiobook (9/11/2006)
Digital Audiobook (10/4/2006)
Paperback (9/11/2017)
Paperback (1/13/2017)
Paperback (2/27/2020)
Paperback (2/27/2020)
Paperback (3/19/2016)
Paperback (10/25/2017)
Paperback (5/9/2017)
Paperback (6/14/2017)
Paperback (2/19/2017)
Paperback (4/18/2017)
* Individual store prices may vary.
Description
Peter pan, the mischievous boy who refuses to grow up, lands in the Darling's proper middle-class home to look for his shadow. He befriends Wendy, John and Michael and teaches them to fly (with a little help from fairy dust). He and Tinker Bell whisk them off to Never-land where they encounter the Red Indians, the Little Lost Boys, pirates and the dastardly Captain Hook. Unlike the boiled-down, sugarcoated contemporary versions of Peter Pan, the original classic by Barrie is not only magical but witty, sophisticated and delightfully odd.