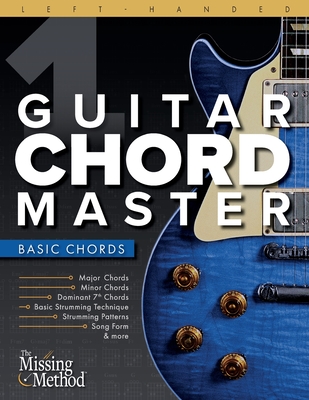 Left-Handed Guitar Chord Master
Basic Chords
Paperback

* Individual store prices may vary.
Other Editions of This Title:
Paperback (4/15/2018)
Paperback (12/7/2019)
Paperback (3/6/2019)
Paperback (7/8/2020)
Description
Don't just memorize chords. Master them.
When we first begin playing guitar, most of us start out fussing around with chord charts and chord books. But chord charts don't show you how to make music. And most chord books are only reference guides. Others either teach too many chords at once or don't teach them systematically, leaving us scratching our heads as we try to figure out how to make the music happen.
Your guitar teacher is here
Over the last 20 years, Christian J. Triola has taught hundreds of students to play guitar, and now you can learn too. Guitar Chord Master offers a new, systematic method that will take you step-by-step from easy chords and rhythms to more sophisticated ones, just as you would get in a guitar class or private lesson. Ample instructions, diagrams, exercises, and streaming audio files are provided so that you can master chords at your own pace. We promise that when you've finished, you'll not only have learned chords, but you'll know how to use them to start playing your favorite songs.
Everything you need to master basic chords
Learn basic chord theory
Master common strumming patterns
Practice the right way with technique tips and example songs
Cement your skills with over 100 practice exercises
Explore barre chords and suspended chords
Find what you need with a quick-reference chord chart
Whether you're just starting on guitar or have been noodling around for years, Guitar Chord Master: Basic Chords will give you the foundation you need to strum the songs you love. And it can be used in conjunction with any other method book, by itself, with a teacher, or on your own.
Why Wait?
Join the legions of guitar players who've already started learning chords with Guitar Chord Master: Basic Chords Scroll up to order your copy and get started today
This is a left-handed copy. Need it right-handed? We have that too Search: Guitar Chord Master: Basic Chords.
*This book was previously published under the title Left-Handed Guitar Chords Made Easy, Level 1: Basic Guitar Chords. If you've already completed that book, we recommend the second book in the series, Left-Handed Guitar Chord Master: Beyond Basic Chords.
Other books in this series:
Book 2-Left-Handed Guitar Chord Master: Beyond Basic Chords
Book 3-Left-Handed Guitar Chord Master: Power Chords
Independently Published, 9781671906303, 118pp.
Publication Date: December 6, 2019