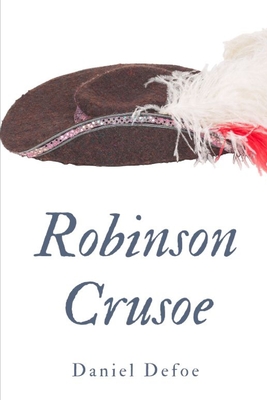 Robinson Crusoe
Paperback

* Individual store prices may vary.
Other Editions of This Title:
Paperback (2/5/2014)
Paperback, German (4/7/2020)
Paperback (10/10/2012)
Paperback (3/9/2020)
Paperback (7/19/2015)
Paperback (12/10/2019)
Paperback, German (2/11/2013)
Paperback, Polish (9/1/2013)
Paperback (5/1/2020)
Paperback, Spanish (1/1/1999)
Paperback (8/21/2018)
Paperback (1/27/2014)
Paperback (6/29/2018)
Paperback (6/15/2012)
Paperback (12/5/2012)
Description
Robinson Crusoe is an Englishman from the town of York in the seventeenth century, the youngest son of a merchant of German origin. Encouraged by his father to study law, Crusoe expresses his wish to go to sea instead. His family is against Crusoe going out to sea, and his father explains that it is better to seek a modest, secure life for oneself. Initially, Robinson is committed to obeying his father, but he eventually succumbs to temptation and embarks on a ship bound for London with a friend. When a storm causes the near deaths of Crusoe and his friend, the friend is dissuaded from sea travel, but Crusoe still goes on to set himself up as merchant on a ship leaving London. This trip is financially successful, and Crusoe plans another, leaving his early profits in the care of a friendly widow. The second voyage does not prove as fortunate: the ship is seized by Moorish pirates, and Crusoe is enslaved to a potentate in the North African town of Sallee...
Lulu.com, 9781678115166, 318pp.
Publication Date: February 2, 2020