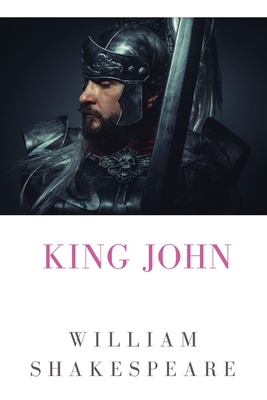 King John
Paperback

* Individual store prices may vary.
Other Editions of This Title:
Digital Audiobook (5/6/2006)
Paperback (12/11/2019)
Paperback (2/27/2020)
Paperback (3/1/2020)
Paperback (5/22/2018)
Paperback (7/6/2021)
Paperback (1/30/2020)
Paperback (2/1/2021)
Paperback (1/1/2009)
Paperback (7/27/2018)
Paperback (5/19/2020)
Paperback (6/14/2019)
Paperback (7/28/2018)
Paperback (7/30/2018)
Paperback (5/12/2018)
Description
The Life and Death of King John, a history play by William Shakespeare, dramatises the reign of John, King of England (ruled 1199-1216), son of Henry II of England and Eleanor of Aquitaine and father of Henry III of England. It is believed to have been written in the mid-1590s but was not published until it appeared in the First Folio in 1623.King John receives an ambassador from France who demands with a threat of war that he renounce his throne in favour of his nephew, Arthur, whom the French King Philip believes to be the rightful heir to the throne.John adjudicates an inheritance dispute between Robert Faulconbridge and his older brother Philip the Bastard, during which.
Lulu.com, 9781678146696, 108pp.
Publication Date: February 24, 2020