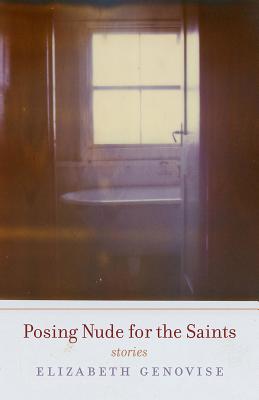 Posing Nude for the Saints
Stories
Paperback

* Individual store prices may vary.
Description
In the opening story of Posing Nude for the Saints, the daughter of a prostitute falls in love with a Mennonite and finds herself torn between two worlds. "Vincent" spotlights a young husband who comes to terms with his wife's terminal cancer, confronting his own helplessness and terror. The title story follows a divorcee who responds to a Craigslist ad for boudoir photography and finds more than what she bargained for. In "Food for the Gods," a widow shops for a last supper for herself and her unborn child; in "Passion Play," a cynical lawyer has a chance to save a life. The central character in "Almost a Wolf" does quiet battle with a rural pastor who's made a critical mistake. In "Citizens," two runaway children escape a violent home and live happily in an abandoned camper until the real world intervenes. In "Irises," a woman in crisis learns her mother's deepest secret, and in "Burn," a family of five vacations in a wild landscape that foreshadows their collapse. Set primarily in rural east Tennessee, the stories in Posing Nude for the Saints portray men and women whose souls are all exposed, and for whom redemption is yet possible.
Praise For Posing Nude for the Saints: Stories…
"Elizabeth Genovise is a first-rate story writer, plain and simple, but she's at her best when her clear-eyed sense of place is blended with richly imagined characters to create emotional landscapes of remarkable depth. Her women, like all good women, are wise and strong, but what's truly startling is how well she knows her men, the good of us and the bad and everything in between."—Michael Knight

"Like an intense consolation from Boethius or an exquisitely turned argument by Saint Paul, these wondrously real stories each transformed me—they verge on conversion experiences. But they bear such a practical scale, that shocking recognition that an epiphany heralds not an exultant end so much as a beginning, a new, arduous, yet hopeful calling. The humanity, the yearning, the raw spirituality of these characters shines indelible. I will never forget being ravished and at last won over by this miraculous collection."—Steve Yates, author of The Legend of the Albino Farm: A Novel, Some Kinds of Love: Stories, and Sandy and Wayne: A Novella
 
Texas Review Press, 9781680031805, 128pp.
Publication Date: June 18, 2019
About the Author
ELIZABETH GENOVISE is a graduate of the MFA program at McNeese State University in Lake Charles, Louisiana. She is the author of two collections of short stories, A Different Harbor and Where There Are Two or More, as well as a chapbook, The Stone Pear. Her fiction has appeared in the O. Henry Prize anthology of 2016 and in dozens of literary journals. Currently she teaches creative writing, literature, and composition, and also works as a private writing coach for aspiring authors.
or
Not Currently Available for Direct Purchase