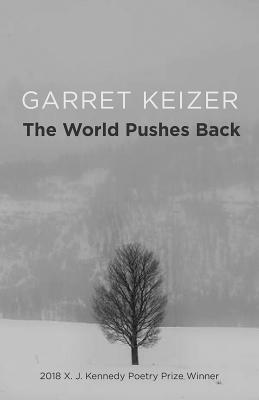 The World Pushes Back
Poems
Paperback

* Individual store prices may vary.
Description
The World Pushes Back, Garret Keizer's first book of poetry, is the winner of the 2018 X. J. Kennedy Poetry Prize. The poems are mostly lyrical, often personal, and always accessible. They have appeared in a number of venues, including Agni, Antioch Review, Best American Poetry, Harvard Review, The Hudson Review, Image, The New Yorker, Ploughshares, Southwest Review, and The Texas Review, among others.
Praise For The World Pushes Back: Poems…
"Funny, touching, and addictively readable poems."
—Kirkus Starred Review

"George Santayana wrote, 'Spirit chills the flesh and is itself on fire.' If I understand that properly, it could be a way of summing up Garret Keizer's aesthetic in his marvelous The World Pushes Back.  But there are such a variety of attitudes in this book, I'll just cite a few—moments like, 'to see the garden through/to the stripped harvest,' and 'all the lies we tell in our right minds,/and the truths we utter raving,' and 'the only thing that is never ironic/is the need for salvation.' Keizer is my favorite kind of moralist, assertive yet complicit. He takes us on a journey through mystery from travail toward understanding that leads us back to mystery. The world remains the world; it is he who pushes back."
—Stephen Dunn

"The World Pushes Back provides a refreshing surprise in every poem: one reads the deftest of sonnets, say, just before a long free-verse meditation. Of course I'm not talking of technique alone. Ignoring the trendy, Garret Keizer unflaggingly (and only) offers things that matter: love, both eros and agape; anger at social injustice–without facile judgment and with earnestness and wit. A long time coming, this is a breathtaking poetic debut."
—Sydney Lea, Vermont Poet Laureate (2011–2015)

"I have waited for a book of poems like The World Pushes Back, one that honors our "quiet laboring," one that pays off on a promise of seeing deeper into the quotidian, of managing the human web. Keizer does more than catalog the spells and bouquets of living now; he is a passionate witness to a remarkable life made holy by his spacious intellect and adventures into song."
—Major Jackson

"The poems in Garret Keizer's The World Pushes Back embrace the world that leans against them with wit and charm, empathy and warmth. They are both political and religious without being shrill or self-righteous, and they engage life as we find it today with an equanimity and good will that seems all but lost in public discourse. This work prompts us to be fully awake in the moments we have, and when the poems look backward to the past, their speaker reminds us, "Like now, it was only the present." Keizer's poems are inclined toward form, but never feel formal—they offer their wisdom with wry humor, conversationally and often with an unexpected rhyme scheme or a play on words that makes them linger a little longer in the heart and in the mind."
—Jesse Graves, Author of Basin Ghosts and Tennessee Landscape with Blighted Pine
Texas Review Press, 9781680031843, 96pp.
Publication Date: March 26, 2019
About the Author
GARRET KEIZER is a contributing editor of Harper's Magazine and the author of eight books of prose, the most recent of which are Getting Schooled (2014), Privacy (2012), and The Unwanted Sound of Everything We Want (2010).  His poems, essays, and short stories have appeared in AGNI, The Antioch Review, The Hudson Review, Lapham's Quarterly, Michigan Quarterly Review, The New Yorker, and Virginia Quarterly Review, among others.  He lives with his wife in northeastern Vermont.