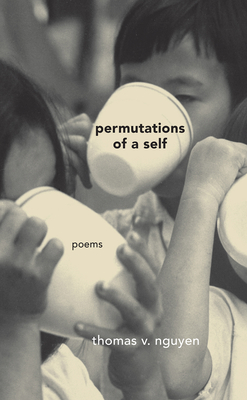 Permutations of a Self
Poems
Paperback

* Individual store prices may vary.
Description
Permutations of a Self grapples with issues of belonging and connection, all from the perspective of someone who does a lot more observing and ruminating than living in the present. Most of the poems draw from Nguyen's imperfect memory of himself and others as it changes throughout time. In many ways, the poet feels like an outsider in his own family because he has gradually forgotten how to speak Vietnamese, his native language that he once knew so well. The poems in this manuscript are as much about coming to terms with that as they are about trying to reconcile what it means to be a part of his family. Interspersed throughout are threads connecting the poet to each one of his family members. They are the moments he turns back to again and again when he is lonely, confused, or unsure about where he comes from and where he is going.
Praise For Permutations of a Self: Poems…
"In Permutations of a Self, Nguyen explores his complex and shifting relationships to family, language, lineage, and landscape. From Vietnam to Texas to New York City, the surroundings crackle with life, while at the center is a kind of absence—a desire for connection and belonging, a grieving for all the possible lives that could be lived. Throughout, Nguyen is the quiet observer, who, with astonishing skill, guides us through moments of static with rigorous self-questioning as well as original and insistent imagery. This gorgeous debut is a finely woven intergenerational portrait, as singular as it is timely."
—Micaela Bombard
"Thomas V. Nguyen's poetry combines a warm sensibility with acute introspection. His writing warmly embraces childhood and family, with a voice that announces a new poetic presence. He is a young talent at present, but I predict that he will soon join William Carlos Williams and Rafael Campo as one of our premier poet-doctors."
—Brian A. Bremen
"Haunted by absence and loss, yet healed by aspiration and love, the voice of 
Permutations of a Self 
takes us on a journey across oceans, beyond telephone wires, and deep into drifting snow, ever in search of what it means to be human. Nguyen's poems are shape-shifting, kaleidoscopic, dreamlike, and ultimately transformative: estrangement becomes familiar, distance is what binds us close, and our many selves are made whole. Here is a fine new poet for whom, according to his 'first law of thermodynamics,' 'there is no birth or death here/only stories of enduring.'"
—Rafael Campo
Texas Review Press, 9781680032147, 42pp.
Publication Date: April 2, 2020
About the Author
THOMAS V. NGUYEN is a medical student at Texas A&M University College of Medicine. He graduated from Columbia University with an MS in Narrative Medicine and studied neuroscience and poetry during his undergraduate years at UT Austin. His poetry has been featured in Frontier Poetry, Nashville Review, Tinderbox Poetry, and Bellevue Literary Review, among others.