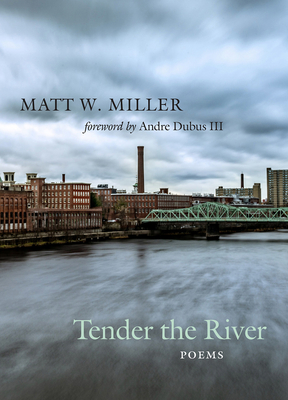 Tender the River
Poems
Paperback

* Individual store prices may vary.
Description
Tender the River captures in verse the history and legacy of the Merrimack River Valley, from the Pennacook, Wamesit, Algonquin, and other indigenous tribes who settled there first, to the European settlers who came with guns and their god to supplant them, to being the birthplace of America's industrial revolution and first labor movements, to becoming a center of continued immigration, of entrenched nativism, and even multicultural celebration. The Merrimack River begins with the confluence of the Pemigewasset and Winnipesaukee rivers spilling from the White Mountains in New Hampshire, then travels down through mill towns like Manchester, Lowell, and Haverhill to finally spit out violently into the Atlantic in the old port (now posh) town of Newburyport. In its journey between those points and as well across the centuries, the Merrimack River Valley has been America in microcosm, many of the nation's democratic successes and demagogic sins being seeded there.
Praise For Tender the River: Poems…
Matt W. Miller's Tender the River is a powerful, endlessly compelling book. You will find many things here, poems of transformation, poems of childhood, beautiful songs and spell-binding narratives. But what moved me most is the way Miller speaks about his country, its history, its anger and guilt. Argument with someone else is a rhetoric, argument with yourself is poetry, Yeats taught. Miller knows this crucial lesson. His poetics of Americana gives us a reckoning and also a knowledge that more reckoning is to come. He looks at the myth of American history and asks: what is real, and is anything real in the late empire? His answers are lyric, honest self-questioning. And, what is more: he does this not via flat proclamations but via music, via skillful storytelling, via vivid, sensual, memorable speech. This is an important book."
—Ilya Kaminsky, author of Deaf Republic and Dancing in Odessa

"In Tender the River, Matt W. Miller beautifully makes and unmakes the story of the Merrimack River through the language of mills, factories, floe, and okta. These poems are full of risk and courage, confronting memory with complex insight and a dogged grit. He does not shy away from that which startles and disrupts. I return to reading these poems aloud, hearing their bends, meanders, and digressions. The hidden meter. What's absent and present. Every single line tells a story, moving us 'toward all the light we have left.'"
—January Gill O'Neil, author of Rewilding and Misery Islands

"Damn, this book is good. Matt Miller's writing brings to mind Richard Sennett's treatise on the joys and value of making, The Craftsman, wherein he celebrates discipline, commitment, and the time it takes to produce quality work. It also evokes Donald Hall's famous essay, 'Poetry and Ambition,' in which he laments the lack of such seriousness among contemporary poets and the advent of what he calls the 'McPoem'—cobbled quickly, shabbily, and with very little ambition toward memorability. I believe that both Sennett and Hall would agree with me that Matt Miller is a craftsman of the first order. And his most recent collection, Tender the River, is well-wrought, exquisite, and built to last. Beautiful as a bespoke three-piece, useful as a pair of hand-crafted brogues."
—John Murillo, author of Kontemporary Amerikan Poetry
Texas Review Press, 9781680032246, 116pp.
Publication Date: April 6, 2021
About the Author
MATT W. MILLER grew up in Lowell, Massachusetts and is the author of the poetry collections The Wounded for the Water (Salmon Poetry), Club Icarus, selected by Major Jackson as the winner of the 2012 Vassar Miller Poetry Prize and Cameo Diner: Poems. A former Wallace Stegner Fellow in Poetry at Stanford University and a Walter E. Dakin Fellow in Poetry at the Sewanee Writers' Conference, he teaches English at Phillips Exeter Academy and lives with his family in coastal New Hampshire.