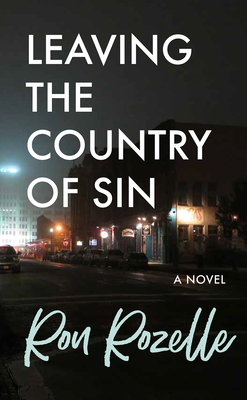 Leaving the Country of Sin
A Novel (The Sabine Series in Literature)
Paperback

* Individual store prices may vary.
Description
Leaving the Country of Sin is a tale of Rafferty, who was saved as a teenager from a promising career of juvenile delinquency and slapped into a six-year hitch in the army to avoid jail time. Early on his anger and fierce resolve catch the attention of an officer in charge of a small cadre of soldiers who provide unique, subdued solutions to problems that are too sensitive for more obvious snipers or commandos.
But it is also the story of the inner reckoning the central character faces once his army career is complete. Rafferty, having long determined to retire on Galveston Island, which he had visited as a child with his uncle, hovers between seeing his past deeds as providing a patriotic service and just another form of murder.
The dilemma is intensified when his old mentor, the general who pulled him into that world and managed him for two decades, shows up with an assignment that will rid the world of a very  evil man, whose actions threaten the security of the nation. Thus the story, already an inward journey motif, becomes a real one, sending Rafferty off on what he determines is his last mission, one he wishes hadn't fallen to him.
Praise For Leaving the Country of Sin: A Novel (The Sabine Series in Literature)…
"Leaving the Country of Sin is a fast-paced tale of Rafferty, a 'retired' Special Ops soldier who is trying to shrug off his role as a savior who saved some people by killing others. Comfortable in his house on stilts on the Texas coast, he has a hard time refusing to go to the rescue of those who need rescuing."
—Robert Flynn, author of Jade: The Law

"I like this Rafferty guy. Despite the fact that the complex antihero of Ron Rozelle's latest novel is an assassin, a U.S. Army-certified cloak-and-dagger killer, he's someone you want to hang out with, whether he's trying to enjoy a quiet, semi-monastic interlude in his Galveston beach house or diving into a kill-or-be-killed mission beneath the cold, treacherous waters off Bermuda. Rozelle is a terrifically gifted storyteller."
—Joe Holley, author of Sutherland Springs: God, Guns, and Hope in a Texas Town
Texas Review Press, 9781680032307, 352pp.
Publication Date: April 13, 2021
About the Author
RON ROZELLE is the author of ten books, among them Into That Good Night, a memoir, and The Windows of Heaven, a novel of the 1900 Galveston storm. He is the recipient of the Katherine Munson Foster Memorial Award, a national short list finalist for the P.E.N. Prize, and is a member of the Texas Institute of Letters.