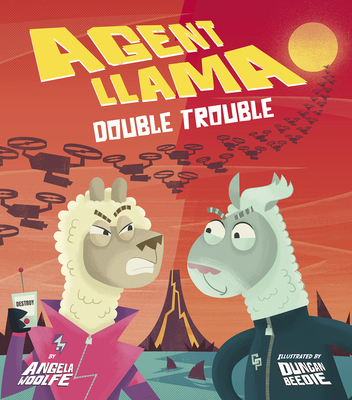 Agent Llama
Double Trouble
Hardcover

* Individual store prices may vary.
Description
In this hilarious follow-up to Agent Llama, hero Charlie Palmer has met her match--a troublemaking alpaca who has dropped spaghetti on everyone and everything all over the world, and has placed the blame on Charlie! Can Charlie outwit the alpaca and clear her name--and save the world?

Charlie Palmer, super spy and secret agent, is back in a hilarious new adventure. Reports of spaghetti falling from the sky are coming in from all over the world. But the worst part is that Charlie is the suspect behind the mayhem! Charlie sets out to discover who really has upended the world with these antics and meets her match--an alpaca whose goal is to cover the sun in spaghetti! Can Charlie stop her before it's too late?
Tiger Tales, 9781680102857, 32pp.
Publication Date: August 16, 2022
About the Author
Angela Woolfe decided to become an author at the age of four after writing a mind-blowing four-line poem called "The Postman Is Very Good." She also writes books for older children and has occasionally--she's still not quite sure why--written for grown-ups, too. She lives in London with one husband and one daughter.

Duncan Beedie is an author and illustrator with more than 15 years of experience working in children's media. He began his career in children's TV as an animator before branching into design and animation for websites, games, and educational apps. In his spare time, Duncan likes to walk his dog and help his daughter improve her video-gaming skill set.