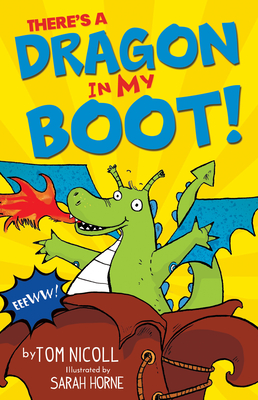 There's a Dragon in my Boot (Paperback)
Tiger Tales., 9781680104547, 160pp.
Publication Date: February 18, 2020
Other Editions of This Title:
Library Binding (2/18/2020)
* Individual store prices may vary.
Description
Join Eric and his friends on a camping trip in the hilarious new series featuring Pan, a Mini-Dragon, with an oversized appetite for adventure.

Eric and friends are off on a camping trip - Pan assures them that a Mini-Dragon's skills will be very handy when it comes to lighting a campfire! As it turns out, dragons aren't so hot at putting up tents. Eric and Pan are just getting tangled up when Toby and his dad show up with their state-of-the-art camping gear. Wanting to prove this weekend isn't about fancy gadgets, Eric suggests pitting his dad against Toby's in a series of outdoor challenges. But when Toby starts bending the rules, it's up to Pan to fly to the rescue.
About the Author
Tom Nicoll has been writing since he was in school, where he enjoyed trying to fit in as much silliness in his essays as he could possibly get away with. When not writing, he enjoys playing video games (especially the ones where he gets beaten by kids half his age from all over the world). He is also a big comedy, TV, and movie nerd. Tom lives just outside Edinburgh, Scotland, with his wife and two daughters.

Sarah Horne grew up in Derbyshire, England, and spent much of her childhood scampering in the nearby fields with a few goats. An illustrator for more than 15 years, she started her illustration career working freelance for newspapers and magazines. When not at her desk, Sarah loves running, painting, photography, cooking, movies, and a good stomp up a hill. She can currently be found giggling under some paper in her London studio.