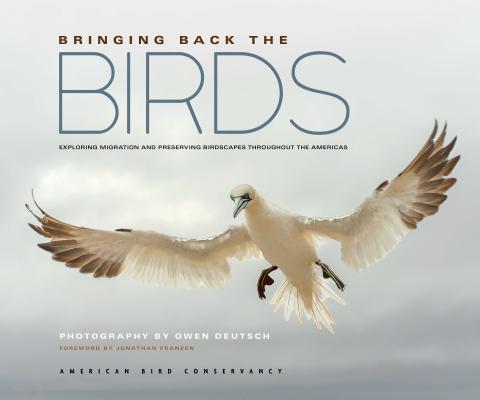 Bringing Back the Birds (Hardcover)
Exploring Migration and Preserving Birdscapes Throughout the Americas
Mountaineers Books, 9781680512113, 208pp.
Publication Date: May 1, 2019
* Individual store prices may vary.
Description
"This is a resource to gaze at and consider, especially the arresting views of hummingbirds, warblers, shorebirds, and the northern gannet." -Library Journal
Foreword by Jonathan Franzen
Original poem by Margaret Atwood


With species ranging from tiny iridescent-green hummingbirds to giant, gangly flightless rheas, the Americas feature an astonishing array of birds that rely upon the region's tremendous diversity of habitats. That reliance may be very localized or it may reach across continents: Swainson's Thrushes travel from South America all the way to Alaska, while certain grebes spend their entire lives on a single lake. Treasured songbirds feed at northern backyard feeders yet often arrive from points far to the south.
The American Bird Conservancy (ABC) works across the Americas with a goal to have birds routinely prioritized in all land-use and policy decision-making.
Bringing Back the Birds
showcases these efforts, alongside the stunning photography of Owen Deutsch and eloquent essays from renowned experts in the field: Peter P. Marra, Smithsonian Migratory Bird Center; researchers Kimberly and Kenn Kaufman; John W. Fitzpatrick, Cornell Lab of Ornithology; and Mike Parr, EJ Williams, and Clare Nielsen of ABC.
To learn more about Braided River and its mission: inspiring people to protect wild places through images and stories that change perspectives, please visit www.braidedriver.org