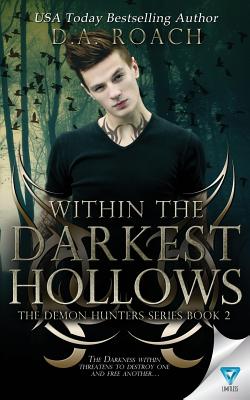 Within The Darkest Hollows (Demon Hunters #2)
Paperback

* Individual store prices may vary.
Description
Cassidy and her mystical ring are stuck in the middle of a battle between the Demon World and the Mortal Realm... A conflict with the demons has left Killian, head of the Demon Hunters, injured and stripped of his powerful Demon Hunter tattoo. Cassidy is tasked with caring for him in the Human Realm until he is well enough to cross back into the Demon Realm. But soon she notices he is acting strangely and begins to suspect something is wrong. She seeks help from Serena, a retired Demon Hunter, but it's too late... Cassidy returns home to find Killian has gone missing. Tyler, a friend with his own set of mystical powers, shows up to tell her that Killian is at his house demanding a meeting with the Demon Queen Rya. She and Serena have to work fast to find a way to heal Killian and get Cassidy's ring away from him before Rya is involved. Meanwhile, Tyler and his dad have their own plan to make a deal with the Queen. The Queen has a decision to make, but not before securing her leverage... Rya wants time to consider the offer presented by Tyler's dad, and takes Cassidy to the Demon Realm as collateral. The Demon Queen must choose between Tyler, the mate she was promised, and the mystical ring that was forged for her years ago. Tyler is forced to face the inner demon he has worked so hard to restrain. Will he succeed, or will he be lost to the darkness, leaving Cassidy to be sacrificed by the demons? As both sides gain alliances, the tension between the realms grows and the time for action draws near...
Limitless Publishing LLC, 9781680589139, 258pp.
Publication Date: December 5, 2016