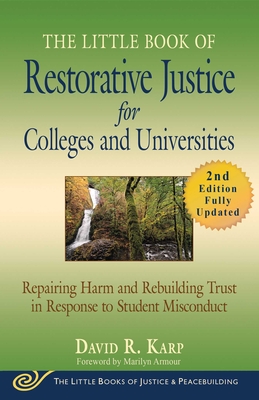 The Little Book of Restorative Justice for Colleges and Universities, Second Edition (Paperback)
Repairing Harm and Rebuilding Trust in Response to Student Misconduct (Justice and Peacebuilding)
Good Books, 9781680994681, 112pp.
Publication Date: September 17, 2019
Other Editions of This Title:
Paperback (9/1/2015)
Hardcover (9/1/2015)
Paperback (5/7/2013)
* Individual store prices may vary.
Description
A Practitioner's Reference and Guide to Implement Restorative Justice on Campus
Here's a call to colleges and universities to consider implementing restorative practices on their campuses, ensuring fair treatment of students and staff while minimizing institutional liability, protecting the campus community, and boosting morale, from an associate dean of student affairs who has put these models to work on his campus.

Restorative justice is a collaborative decision-making process that includes victims, offenders, and others who are seeking to hold offenders accountable by having them (a) accept and acknowledge responsibility for their offenses, (b) to the best of their ability, repair the harm they caused to victims and communities, and (c) work to reduce the risk of re-offense by building positive social ties to the community.

David Karp writes in his introduction, "As a student affairs administrator, I have become deeply committed to the concept and practice of restorative justice. I have experienced how it can work given the very real pressures among campus conduct administrators to manage high case loads, ensure fair treatment, minimize institutional liability, protect the campus community, boost morale in a division with high turnover, and help students learn from their mistakes without creating insurmountable obstacles to their future successes."
About the Author
David R. Karp, PhD, is a professor in the School of Leadership and Education Sciences at the University of San Diego. His current scholarship focuses on restorative justice in community and educational settings. Recipient of the Donald D. Gehring Award from the Association for Student Conduct Administration for his work on campus restorative justice, David has published more than one hundred academic papers and six books, including Wounds That Do Not Bind: Victim-Based Per­spectives on the Death Penalty and The Community Justice Ideal. David received a BA in Peace and Conflict Studies from the University of California at Berkeley and a PhD in Sociology from the University of Washington.

Marilyn Armour, PhD, is a University Distinguished Teaching Professor and director of the Institute for Restorative Justice and Restorative Dialogue *(IRJRD) at the University of Texas at Austin. Prior to becoming an academic, she was a psychotherapist with an emphasis on violent death, trauma, and family relationships. She lives in Austin, Texas.