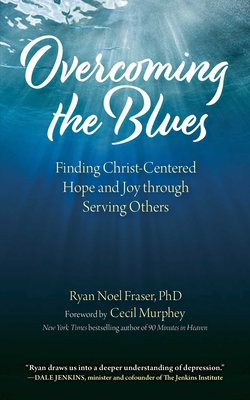 Overcoming the Blues (Paperback)
Finding Christ-Centered Hope and Joy through Serving Others
Good Books, 9781680994865, 192pp.
Publication Date: September 3, 2019
* Individual store prices may vary.
Description
Nobody is immune to depression, not even the most faithful and dedicated Christians.
 
Finding the strength to effectively cope with ongoing depression in one's life may seem like an insurmountable personal and faith challenge for many followers of Jesus. You may feel like you're useless, unworthy of joy, and a complete spiritual failure. While a number of books have been written on depression from a psychological perspective, Overcoming the Blues addresses spiritual concerns to provide hope and comfort for the faithful.  
 
As a counseling professor, minister, and licensed clinical pastoral therapist, Dr. Ryan Noel Fraser has recognized the ubiquity of depression among believers, as well as the overwhelming need for capable caregivers within the church. His revolutionary how-to guide offers practical guidance and holistic methods to relieve the distressing symptoms of depression in three Christ-centered ways:
 
(1) Recognize God's abiding presence
(2) Reach out to others (2 Corinthians 1:3-5)
(3) Respect your limitations
 
This book seeks to motivate, mentor, and mobilize sufferers of depression in the church to see that serving is so much more than merely a short-lived distraction from your own suffering; it can be a powerful and restorative antidote—a transformative way of life that facilitates healing and hope.
About the Author
Ryan Fraser, PhD grew up in Cape Town, South Africa on the mission field. He holds a Master's in Ministry, Master's in Divinity, and a Doctorate in Pastoral Theology and Pastoral Counseling from Brite Divinity School at Texas Christian University. A licensed Clinical Pastoral Therapist and a Fellow in the American Association of Pastoral counselors, he directs the Masters in Pastoral Care and Counseling program at Freed-Hardeman University. He and his lovely wife, Missy, have two wonderful young adult children, a terrific son-in-law, and live in sunny Tennessee where they enjoy hiking and barbecuing in the backyard.