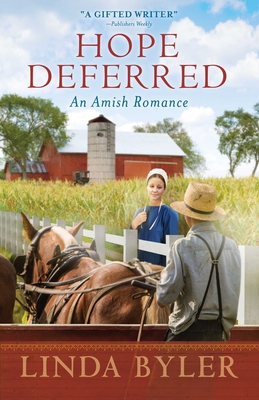 Hope Deferred (Paperback)
An Amish Romance
Good Books, 9781680995879, 336pp.
Publication Date: March 10, 2020
* Individual store prices may vary.
Description
Will Daniel and Anna be able to reconcile their faith struggles and their love for each other? Beloved Amish novelist Linda Byler once again writes a compelling and surprising love story, showing that even the Plain People struggle with complex feelings, questions, and relationships.

David Stolzfus and Anna Fisher have been best friends as long as they can remember. Sure, it was a bit unusual in the Amish community for a boy and a girl to be so close, but nobody questions it with David and Anna—it has just always been that way. They live on neighboring farms in Lancaster County, they walk to school together (with all their siblings) every day, and when David learns to drive a pony, Anna is the first one to ride with him. Their lives are intertwined, the way the borders of their properties are joined by the Pequea Creek.

As they approach their teen years, everyone just assumes David and Anna will date each other. It is obvious that Anna admires David's brilliant mind, and of course David would be honored to have a wife from a family that was so well respected in the community. Plus, she is cute and funny and sincere; what else would he be looking for? So when David and Anna deny any romantic inclinations, their cheeks red with embarrassment, most people think it is just a matter of growing up a bit more before they realize they are meant for each other.

When David, a bit older now and full of questions about faith, family, and the world, decides to travel to Australia, Anna is devastated to say goodbye to her best friend. But then she receives a letter from Leon Beiler, a young man she can't deny she has feelings for, and everything changes again. How can she reconcile a lifetime of close friendship with David with this new potential romance? And what will happen when David returns home?
About the Author
Linda Byler grew up Amish and is an active member of the Amish church today. She is the author of five bestselling fiction series, all set in the Amish world: Hester Takes Charge, Lancaster Burning, Sadie's Montana, Lizzie Searches for Love, and The Dakota Series. In addition, Byler has written five Christmas romances: The Little Amish Matchmaker, The Christmas Visitor, Mary's Christmas Good-Bye, Becky Meets Her Match, A Dog for Christmas, and A Horse for Elsie. Linda is also well known within the Amish community as a columnist for a weekly Amish newspaper.
Praise For Hope Deferred: An Amish Romance…
"Byler creates multifaceted characters who deal with real-life issues, showcasing how plain life is not always simple." —Publisher's Weekly