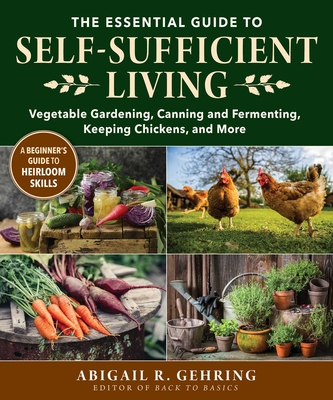 The Essential Guide to Self-Sufficient Living
Vegetable Gardening, Canning and Fermenting, Keeping Chickens, and More
Paperback

* Individual store prices may vary.
Description
Grow your own vegetables and herbs, indoors in containers or outside in a garden. Raise chickens or goats. Build a beehive. Make your own nontoxic cleaning sprays. And more!
Gehring's books on country living have sold more than 500,000 copies. In this book, she offers a guide to homesteading skills that is as charming as it is practical. Full of sweet illustrations and gorgeous photographs, step-by-step instructions for essential skills such as building a chicken coop are interspersed with country lore and old-fashioned tips and tricks.
Readers will learn how to:
Container garden
Raise chickens
Churn butter
Grow vegetables
Can tomatoes
Brew kombucha
Make shampoo
Repel garden pests
Milk a goat
Improve garden soil
Make strawberry-rhubarb jelly
Ferment vegetables
Make yogurt
Sprout grains
And more!
The Essential Guide to Self-Sufficient Living
 combines the know-how of
Back to Basics
with the charm of
The Farmer's Almanac
. This is the perfect gift for anyone interested in a more self-sufficient, greener, country lifestyle.
Praise For The Essential Guide to Self-Sufficient Living: Vegetable Gardening, Canning and Fermenting, Keeping Chickens, and More…
"The thing about homesteading and self-sufficient living is you never stop learning. Even after decades of farming and living a close to self-sufficient life, we still benefit from different methods. I love seeing a new book on this topic because I always end up finding a new helpful tip or maybe a dozen! The Essential Guide to Self-Sufficient Living did not disappoint. I particularly found the "growing things" section helpful with the tips on pest control. While this book could be the only book you need on living a more sustainable life, it will also compliment any other volumes you already have on hand. From growing veggies to keeping bees, and keeping chickens to home canning, you will love having this book on your shelf." —Janet Garman, author of 50 Do-It-Yourself Projects for Keeping Chickens and Timber Creek Farm blog
 
Good Books, 9781680997118, 176pp.
Publication Date: April 6, 2021
About the Author
Abigail R. Gehring is the author or editor of more than a dozen books including Back to Basics, Homesteading, The Illustrated Encyclopedia of Country Living, and Classic Candy. She enjoys writing, gardening, experimenting in the kitchen, and spending time with family. She lives with her husband and two children in an 1800s farmstead they are restoring in Marlboro, Vermont.