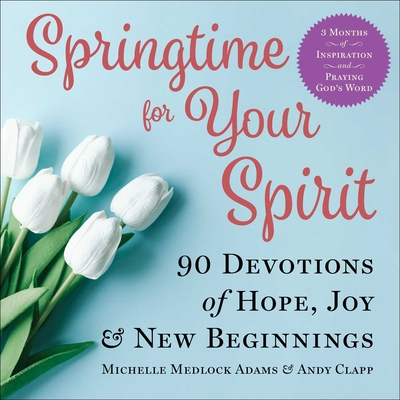 Springtime for Your Spirit
90 Devotions of Hope, Joy & New Beginnings
Hardcover

* Individual store prices may vary.
Description
Guaranteed to breathe new life into your walk with God, this 90-day devotional—with entries for March, April, and May—will reawaken your spirit through famous quotes, inspirational readings, meaningful prayers, and targeted scriptures.
Whether you're looking for those first signs of new life to burst through the soil, hunting Easter eggs with the kiddos, or seeking a closer relationship with Jesus, it seems we're all searching for something to bring us hope, joy, and a new beginning. That's why
Springtime For Your Spirit: 90 Devotions of Hope, Joy, and New Beginnings
is the perfect devotional for such a special season. Award-winning authors Michelle Medlock Adams and Andy Clapp have carefully woven biblical lessons into holidays and happenings that we experience only during spring, such as:
MLB Spring Training
Lent
Easter
Spring Storm Season
Spring Pancake Festival
Spring Planting
Mother's Day
Each devotion not only features an inspirational teaching and quote, but also, it gives readers the opportunity to:
Plant the Word
,
Work the Word,Pray the Word,
and learn more through a
Did You Know?
feature.
We challenge you to search the pages of this devotional and experience the sweetness of this sacred season. Your beautiful new beginning awaits. . . .  
Praise For Springtime for Your Spirit: 90 Devotions of Hope, Joy & New Beginnings…
"As I read Springtime for Your Spirit, I am drawn immediately into the delightful reminders of God's promise of Spring. Michelle and Andy have crafted a devotional that is not only practical but also applicable with its special sections to plant, pray, and work the Word. The beautiful layout complemented by full-color photography is icing on the cake! Order your copy today and reap the benefits of the encouragement found among the pages of this timely title." —Victoria Duerstock, award-winning author of the Heart & Home series and Extraordinary Hospitality for Ordinary Christians

"Springtime is full of newness, life, and joy. Michelle Medlock Adams and Andy Clapp capture the wonderment of the season in this encouraging, uplifting, and hope-filled book." —Bethany Jett, award-winning author of They Call Me Mom: 52 Encouraging Devotions for Every MOMent
"What a refreshing devotional! Adams and Clapp have knocked it out of the park (pun intended—you'll catch on when you read)! Their inspiring stories, thought-provoking words, and call-to-action suggestions awaken the senses to the newness and beauty of springtime and heightens an appreciation of the Almighty Creator God. If you're in a season of drought, let this book be springtime showers to nourish your dry soul. And if you're in a season of fruitfulness, allow this devotional to remind you of God's goodness and love. I highly recommend Springtime For Your Spirit!" —Julie Lavender, award-winning author of 365 Ways to Love Your Child: Turning Little Moments into Lasting Memories and Children's Bible Stories for Bedtime 
"This perfect little devotional is ideal for personal and spiritual growth. There are priceless gems of encouragements and nuggets of knowledge in these 90 chapters." —Del Duduit, award-winning author and literary agent

"We are inundated with the tragedy, division, and brokenness of this world on a daily basis. Michelle and Andy share from their faith and the Spirit how to put the media overkill away, step outside, and see the budding of Spring as a reminder that God is always doing something exciting and new. This book is a breath of fresh air. Read it and be filled with hope again." —Britt Mooney, pastor and author SAY YES: How God-Sized Dreams Take Flight

"Oh, the joy of that first fluffy snowfall as we're cuddled with a cup of hot coco beside a crackling fireplace. Yet after the second and the third, how we begin to dread the slush and the mush and that darkened wintery season. But remember springtime is right around the corner. In Michelle Medlock Adams and Andy Clapp's new book, Springtime For Your Spirit, it is your breath of fresh air. Within their ninety inspired devotions, you will discover how to plant the Word in your heart, how to pray the word in your life, and how to work the Word in whatever circumstance you are facing." —Del Bates, author of Walking in a Minefield

"Devotions of Springtime are for the dark days of winter as we long for spring. Through prayer, scripture, and, action this book will guide you to the spring joy in the colorful pictures. A reminder we are never alone and hope will not fail us." —Reverend Dr. Robin Currie, award-winning author of The Very Best Story Ever Told: The Gospel with American Sign Language

"A work of pure delight, not only for the soul, but for the senses." —Eva Marie Everson, president of Word Weavers International and bestselling author of Reflections of God's Holy Land
Good Books, 9781680997750, 272pp.
Publication Date: February 15, 2022
About the Author
Michelle Medlock Adams is a New York Times bestselling ghostwriter and an award-winning journalist of more than 100 books including, Dinosaur Devotions. Michelle is married to her high school sweetheart, Jeff, and they have two married daughters and five adorable grandchildren. Learn more at: www.michellemedlockadams.com.

Andy Clapp is an award-winning author and pastor. Andy's debut novel, Midnight, Christmas Eve, released in 2021. Andy is married to Crystal and they live in North Carolina, along with their three children: Cheyenne, Autumn, and Brady. Learn more about Andy by visiting www.andyclapp.org.