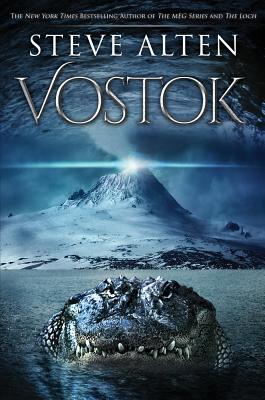 Vostok (Hardcover)
Rebel Press, 9781681020006, 416pp.
Publication Date: February 17, 2015
* Individual store prices may vary.
Description
East Antarctica: The coldest, most desolate location on Earth. Two-and-a-half miles below the ice cap is Vostok, a six thousand square mile liquid lake, over a thousand feet deep, left untouched for more than 15 million years. Now, marine biologist Zachary Wallace and two other scientists aboard a submersible tethered to a laser will journey 13,000 feet beneath the ice into this unexplored realm to discover Mesozoic life forms long believed extinct – and an object of immense power responsible for the evolution of modern man.
In this sequel to The Loch and prequel to the upcoming MEG 5: Nightstalkers, New York Times best-selling author Steve Alten offers readers a crossover novel that combines characters from two of his most popular series.
Steve Alten is the New York Times and International bestselling author of fourteen novels, including the MEG series about Carcharodon Megalodon, the 70-foot, 100,000 pound prehistoric cousin of the Great White shark and Domain trilogy, a series about the Mayan Calendar's 2012 doomsday prophecy. His work has been published in over 30 countries and is being used in thousands of middle and high school curriculum as part of Adopt-An-Author, a free teen reading program, which he founded with teachers back in 1999.
About the Author
Steve Alten grew up in Philadelphia, earning his Bachelor's Degree in Physical Education at Penn State University, a Master's Degree in Sports Medicine from the University of Delaware, and a Doctorate of Education at Temple University. His previous nine novels have all become bestsellers, with millions of copies sold worldwide. As an author, Steve has two goals. First, to continue to work hard to become a better storyteller and create exciting page turning thrillers. Second, to remain accessible to his readers. Steve reads and answers all e-mails, uses the names and descriptions of his loyal fans as characters in his novels, and even hires readers as editors, depending on their particular expertise. Steve has also founded and oversees Adopt-An-Author, a nationwide non-profit program designed to encourage students to read. With an unparalleled success rate, he now spends half of his workweek working with high school teachers and teens.