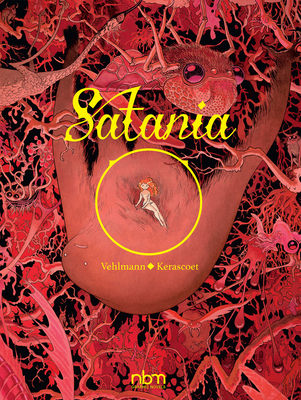 Satania (Hardcover)
NBM Publishing, 9781681121437, 128pp.
Publication Date: November 15, 2017
* Individual store prices may vary.
Description
Charlotte—aka Charlie—a pretty redhead, sets up an expedition to find her brother. The young scientist, who disappeared underground several months ago, claimed, to everyone's astonishment, to be able to prove the existence of Hell by using Darwin's theory of evolution. The little group, led by Charlie, plunge underground in his pursuit. The deeper they progress into the entrails of our planet, the more they enter another world that hides other forms of life heretofore never experienced. The discovery changes them gradually in a way they cannot at first perceive…
About the Author
A nom de plume for wife/husband team of comic artists Marie Pommepuy and Sebastien Cosset, Kerascoet are also artists in advertising, animation and fashion. They are famous for their work in the Dungeon series as well as Beauty, Beautiful Darkness and Miss Don't Touch Me. Fabien Vehlmann is a French comics scriptwriter whose many books include the Spirou series and Beautiful Darkness.
Praise For Satania…
Publishers Weekly top ten pick for the Fall! "Another sumptuously illustrated adventure into horror by the creators of Beautiful Darkness." —Publishers Weekly
"Upends readers' expectations with subversive force. Kerascoet's art transitions from the wide-eyed cartoonishness of young adult graphic novels to a more intricate, gruesomely beautiful style." —Publishers Weekly STARRED REVIEW
"Seems to burst forth from an innocent, morally chaotic imagination. Thoroughly surprising. When the bizarre conclusion begins to unspool, events blaze across the page in an ecstatic riot of line and color." —Etelka Lehoczky, NPR.org
"Dizzyingly spectacular. A thought-provoking, eye-catching, and thoroughly enjoyable descent into the bowels of hell." —Briana Shemroske, Booklist
"Satania's great strength is that it provides adventure and visual spectacle on a scale and with an energy that isn't often achieved with such technical prowess in comics." —John Seven, comicsbeat.com