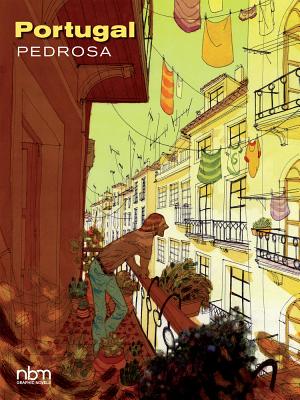 Portugal (Hardcover)
NBM Publishing, 9781681121475, 264pp.
Publication Date: December 1, 2017
* Individual store prices may vary.
Description
From the author of the acclaimed Equinoxes comes a return to roots that serves as spiritual renewal. Comics artist Simon Muchat is stuck. Suffering writer's block, uninspired, vegetating as a school art teacher, he is losing direction and his taste for life, until one day he is invited to appear at a comics convention in Portugal, the country his family came from and which he hadn't seen since his childhood. Even though he is a foreigner there, so many elements of the country are familiar to him. Meeting its lively citizens and recounting early memoreis brought by back his distant yet welcoming family all prove reinvigorating—the breath of fresh air he so badly needed. Based on his own experience, Pedrosa narrates this return to his roots in a deeply compelling and warmly human way. This bestselling graphic novel has sold more than 100,000 copies in France and a has won many prizes, including Best Graphic Novel at the Angouleme Festival and FNAC Best GN.
About the Author
Cyril Pedrosa has worked on Disney animated feature films such as The Hunchback of Notre Dame and Hercules before meeting writer David Chauvel, who inspired him to turn to comics. His work is a product of his animation background combined with his literary influences of Borges, Marquez, and Tolkien.
Praise For Portugal…
STARRED REVIEW "A tour de force! Pedrosa's loose, expansive writing style is perfectly complemented by his lush, lightly lined drawings, in which people and their stories overlap each other with discursive enthusiasm. Everybody has a lot to say in this graphic novel whose gorgeous art is as full as its story." —Publishers Weekly
"Pedrosa's book works as a piece of art, so beautiful are the contents." —The Beat 
"Pedrosa keeps the book moving briskly thanks to his facility with dialogue, skill with visual pacing and genuine affection for his characters." —High-Low Comics 
"Thoughtful and well executed. The color work is exceptional." —Booklist
"A fine example of how graphic fiction can indeed be literature." —ICv2
"Ambitious and beautifully drawn. Worthy of recognition for comics as literature." —Foreword
"Quite simply put, Equinoxes may just be one of the most important books you read this year. It is that damn good." —Broken Frontier 
"With this graphic novel, the master cartoonist lays it all bare. Like an overstimulated genius infant still fresh and new. " —Comics Grinder 
"Ten Best Graphic Novels of 2017. As much a triumph of atmosphere as action. The book's artist as a young man may be disenchanted, but the dazzling, meditative panels are entirely enchanting" —Michael Cavna, Washington Post
"Cyril Pedrosa's Equinoxes is an impressive feast of a book." —Scott McCloud, author of Understanding Comics and The Sculptor 
"Pedrosa deftly narrates his return to his roots in a deeply compelling and warmly human way." —Midwest Book Review
"Digging into the past shows him how to move forward, and Pedrosa turns Simon's self-discovery into a beautiful journey through a foreign country full of wonders. There's remarkable precision in the artwork, with each location and character rendered in lush detail." —Onion AV Club
"Pedrosa's art is outstanding, combining the warmth and vitality of sketchwork with an eye for detail and facial expressions. The book's palette of colors also helps to draw outsiders into the very personal experience of Portugal—a book that deserves every bit of the attention it has garnered." —Foreword Reviews