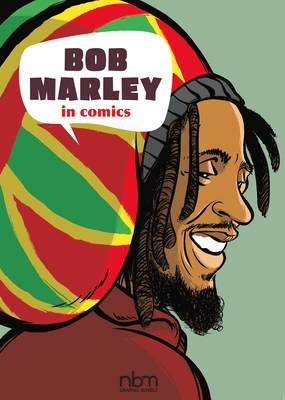 Bob Marley in Comics! (NBM Comics Biographies) (Hardcover)
NBM Publishing, 9781681122496, 176pp.
Publication Date: January 15, 2020
* Individual store prices may vary.
Description
In the middle of a depressing youth in a ghetto of Kingston, Jamaica, Robert Nesta Marley sees only one way out: music. And that music will be what Jamaica made of rock and pop locally that had hardly been heard anywhere else: reggae! It is Marley who brings the unmistakable beat of reggae to the entire world. From small stages in Jamaica, his partners, The Wailers, accompany him all the way to the most fabulous world tours and adulation. In addition to a rocketing musical career, the most famous rasta wants to shake things up and proclaim his humanitarian and egalitarian values.
About the Author
Sophie Blitman is an independent journalist and author. She has written several French nonfiction children's books as well as an adult novel. Gaet's is a French comics writer and the author of Beatles in Comics.
Praise For Bob Marley in Comics! (NBM Comics Biographies)…
"The music of reggae legend Bob Marley has touched many generations and continues to do so following his death. This graphic biography tells of the singer's early days in Trenchtown, rise to international fame, and exile in London following an attempt on his life. Although he's a unifying figure all over the world, only some of the Rasta's fans know of his struggles to record, the various lovers he took, and the cancerous melanoma that ultimately took his life. Each chapter features full-color art from one of 19 different graphic artists, and the sections are interspersed with prose entries that further contextualize the visual storytelling. With so many styles highlighted, this title aims for readers who love not only the music Marley produced but also diverse approaches to sequential art. The overall cohesion is challenged by the variety of contributors, but it feels like a work of love from many admirers. The narrative is accessible, the chronology clear, and the story acknowledges both the strengths and weaknesses of character in this iconic Jamaican figure." —Katrine Spencer, Booklist
"Without any doubt Bob Marley and comics fans will be very pleased with the publishing of a brand new graphic novel entitled "Bob Marley In Comics". The 176-page full color book with a hard cover is a boisterous biography of Bob Marley....The drawings featured in the various chapters are done by different artists, which is an interesting concept. The variety of styles teases the reader's attention and increases the appeal of the content." —Mr. T, Reggae Vibes
"...unreservedly recommended for the personal reading lists of the legions of Bob Marley fans and will prove to be an enduringly popular addition to community and academic library biography collections." —Willis M. Buhle, Midwest Book Review